Food and fun – both are served up at Betty Danger's!
For our date night, we decided to try Betty Danger's in Minneapolis. We had heard a lot about the place and decided that it was about time to check it out for ourselves (and we are glad we did).
The ambiance of the bar and the patio was seriously REALLY COOL.
They have brunch, lunch, and evening menus, serving Tex-Mex food. The evening menu we ordered off of was pretty solid. Knowing that we were going to write a review, we tried a few different items.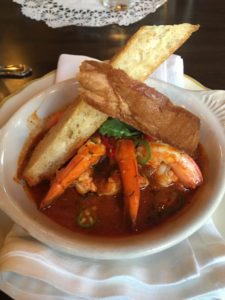 We started with the Cast Iron Shrimp. It came in a spicy butter sauce with grilled bread on the side. The food was amazing, but not a very big serving.
It was SPICY HOT! We loved the flavor and the shrimp was cooked to perfection, not overdone. The bread on the side made it really easy to soak up the amazing goodness.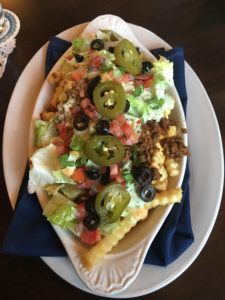 We tried the Frachos as well. They were crinkle cut fries with seasoned ground beef, cheese, Jalapeno, pico de gallo, scallions, black olives, and Jalapeno mayo.
These were the best thing we had. Seriously, so good! Loved them like there were not enough of them. We could have had 2 of these and been good. The dish was spicy, deliciously spicy.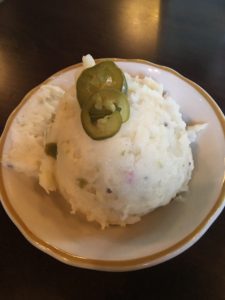 The Jalapeno Mashed Potatoes were also spicy in a good way and creamy, pureed to perfection. Another very legit choice!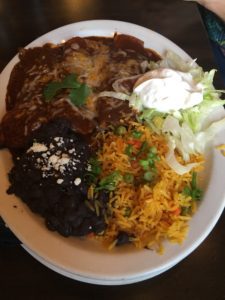 For the main course, we had the Kingsley Enchilada Platter. This included 3 beer braised chicken and cheese rolled enchiladas with chili Habanero sauce, fresh mozzarella, and oregano.
It was served with Adobo rice and black beans. It had great flavor! The chili Habanero sauce was awesome!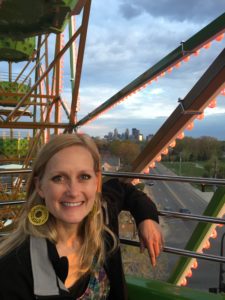 We got to enjoy our dessert on "The Danger" (Ferris wheel). We had the Pecan Pie made with a strong pour of bourbon. Strong. They served it on a paper plate and we got to enjoy it while also taking in the sights. I would eat this delicious pie again. And again.
They have a great drink list, but unfortunately no NA beer, which was a bummer for me. Cristina had a solid drink that she really enjoyed, a chocolate beer! Sounds odd, but it was smooth & flavorful – a surprising treat!
Going back to the Ferris wheel… the food was great, but this may have been the highlight for us. It features open air dining cars where you can dine and drink as you rotate around and then stop at various points. Plus, you get a stellar view of the Mississippi River, downtown Minneapolis, and the sunset! It's $6 per ticket and so worth it.
We didn't do the mini-golf, but that looked like a lot of fun… maybe next time.
We walked across the street and up over the bridge after the meal, which was nice – seriously perfect for a date night!
Another tip that is good to know considering the increasingly beautiful weather is they take reservations for the dining room, but the Ferris wheel and patio seating is on a first-come, first-served basis.
Star Ratings
Food: 4.5 Stars
Atmosphere: 5 Stars
Price: 4.5 Stars
Overall Experience: 4.75 Stars