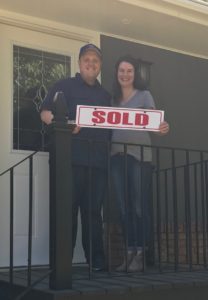 Jeremy and Amy reached out to me about selling their home that they had outgrown (which we did very quickly!) and buying the right home. They really dreamed of being in a very specific neighborhood in Minneapolis and so we set out to do all we could to find them a home there. The neighborhood is probably 50% or more rental properties, and in a year, only about 4 homes sell… quite a challenge to resurrect a home or two for sale there! We ended up sending a couple mailings to the neighborhood asking sellers to consider selling their home to them … we even sent door knockers… we actually did get a couple responses but the sellers ended up not being ready to make a move at all at the end of the day. So after exhausting every option there, we started expanding their search to nearby areas like NE Minneapolis and South Minneapolis and included St. Anthony.
We made offers on a few properties; they were selling so quickly and in multiple offers and for far beyond what the sales in the area justified. Given these homes were already smaller than what this family needed, we started focusing a tiny bit less on the exact location and more on a home the family would really enjoy. When a gorgeous remodeled home came on the market in St. Anthony, with 5 bedrooms, 3 baths and a great yard, a block and a half from a little park and just a few minutes' drive from the neighborhood they wanted to be in. The home has a fabulous open floor plan that will be wonderful not just for their family but for hosting!
Jeremy and Amy, thank you so much for the privilege of taking this journey with you! I wish you the best as you settle into your new home.
Lead Agent: Cristina Edelstein-Skurat