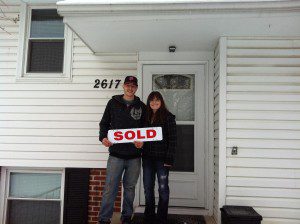 Sally is in the military and Matt works for Dave's Floor Sanding and Installation. Sally contacted me because she wasn't super happy with the realtor she had been working with. I proved to be responsible for her, even though I had to send a buyers agent to meet her for her buyers consultation since my daughter was in the hospital!
We found them a gorgeous Coon Rapids home with a super cute kitchen and a great yard on a nice, big lot.
As we were in the negotiation and inspection period, she found out that her cousin actually grew up with the seller's daughter and spent a lot of her growing up years playing in that house! It was so fun to know the families were so interconnected!
Sally and the seller worked out some items into the selling price including the flat screen TV in the living room, the grill in the back yard, and some other items.
Matt and Sally are a really nice couple and we are super excited for them! We hope that moving day goes well today as all the Irish family comes to pitch in! Congrats, guys!