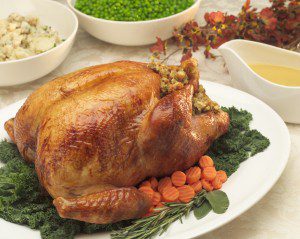 Whether it's your 1st turkey or you've cooked 50 over the years, everyone seems to have the 'perfect' idea of how to cook a turkey. No one wants a dry turkey, right?!  It's time to get the bird ready to go! If you're not sure how you want to cook your turkey to perfection, check out some of these websites for great, easy ways to make Thanksgiving tender and tasty for your whole family!
How To Cook A Thanksgiving Turkey Website
Mama J's Favorite Minnesotan Turkey (not published anywhere but here):
Prep the turkey after it's thawed: remove the neck and other nasties (both top and bottom!)
Rinse turkey off.
Sprinkle lightly with salt and pepper.
Take butter slices and place them on the outside of the Turkey.
Stuff the innards of the turkey with stuffing if you so desire. Make sure you close the turkey back up so the stuffing doesn't come crashing out.
Add 4 cups of water to the bottom of the pan if the turkey is raised high off of the bottom of the pan. If it's raised on a small rack, only use 2 cups. Add 2 chicken bullion cubes to the water. Raising the turkey is all based on the size/type of your pan. The water in the bottom will keep the turkey extra moist and tender.
Cover the turkey with the roasting pan lid… if no lid, use tin-foil.
Uncover the turkey for the last 30 min so it gets nice and golden brown. Don't over do it!
Cook the turkey, based on weight, according to the package – time and temp (and watch for the little red popper to pop!)
Once it's done, let the turkey sit for 30 min on the counter.
Cut your turkey and enjoy! It'll still be VERY hot so use caution when cutting.