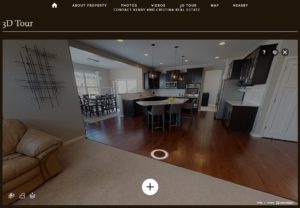 Our team is excited to share that we are providing all our sellers with the cutting edge marketing technology of 3D Matterport Tours. This is going to make our sellers' homes stand out in today's real estate market. We are one of the very few real estate teams in the Twin Cities offering this service to their clients and believe it is going to make a huge impact on getting serious buyers looking at their home and writing offers.
A Matterport 3D Virtual Tour takes the traditional virtual tour to a whole new level offering a fully interactive, completely immersive 3D experience.  Potential buyers are able to gain a real world perspective of your home and have an open door experience being able to walk through your home anytime day or night.
Here are just a few benefits of including a 3D virtual tour as part of your existing online marketing strategy:
Interactive and Buyer-Friendly:Virtual tours allow buyers to explore your home remotely. They enable buyers to walk your entire home from the comfort of their phone or tablet.
Captivate Buyers:Unlike plain text or still images, virtual tours can keep viewers engaged on your home for long periods of time. As they explore your home, buyers can easily make decisions if your home is a good fit for their needs or not.
Increase Engagement :The longer a buyer spends looking through different rooms of your home, the more they may decide to visit in person. Combined with other marketing strategies our team uses, these tours can entice the buyer to make an offer on your home.
Click here to view one of our listings in 3D Matterport Tours