Starved for space in your kitchen? So are we! And while we would all love a kitchen like those we see on movie sets and cooking shows, a spacious, state-of-the-art kitchen isn't a reality for most of us. There are some small ways, however, to create a more functional kitchen. Read on for our easy space-saving tips.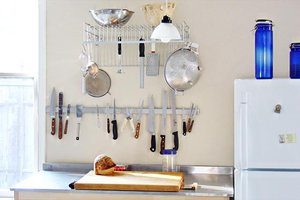 Hang a Pot Rack
Hanging your pots and pans above your kitchen workspace is not only a great way to save cabinet space, but it makes your cookware easier to access — no more struggling to find that saucepan underneath three frying pans and a casserole dish.
Buy a Small Kitchen-Friendly Table
Consider buying a kitchen table that has leaves or shelving in the center.
Put Up a Magnetic Knife Holder
Save counter space by mounting a magnetic knife rack on your backsplash. If you have children around, make sure to keep it far from their reach.
Install a Wall-Mounted Spice Rack
Similarly, save cabinet space by mounting a spice rack on the wall. You can find plenty of styles and sizes at your local kitchen supply and hardware stores.
Install Pantry Dividers
Instead of stacking cookie sheets, cutting boards and cooling racks in your cabinets, use pantry dividers to store them vertically. You can buy them on Amazon, or you can make your own using tension curtain rods.
Install Lid Racks
Install towel bars on the inside of your cabinets and slide your pot lids between the bar and the cabinet wall, with the lid handle resting on the bar. It makes it so much easier to find what you're looking for, and far less noisy to boot.
Install Foil/Saran Wrap Racks
Save room in your drawers by installing a foil rack on the inside of one of your cabinet doors. It's perfect for holding saran wrap, foils, wax paper, etc.
By Fox News Magazine