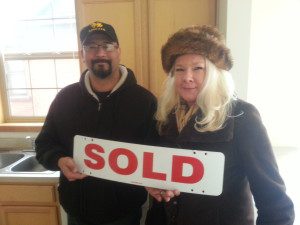 I met Susano and Becky when they inquired about one of our listings and expressed an interest in becoming homeowners for the first time after having rented the same apartment for 15 years! We did look at the listing they had interest in but it was not the right fit for them. The good thing was, we had had a strategic home buying consultation and also had set them up with access to every condo that fit what they were looking for.
We went out a few times to look at condos and it was an amazing journey of identifying a super great deal for them. The only obstacle was dealing with HUD and the twists and turns the government sometimes offers on the homes they sell.  This Minneapolis condo was a steel and we were able to make an offer and get it accepted. The wonderful news is that it's appraised for more then what we offered! I know they will be very happy to be living in a condo that fits their price range and is within walking distance of Becky's job. Susano and Becky are just a hard-working, laid-back and phenomenal couple.
I hope you enjoy your new home for a long time. I know you will enjoy no longer losing money on rent and instead, paying off your own home!
Thank you for the privilege of helping you through this process. Congratulations!