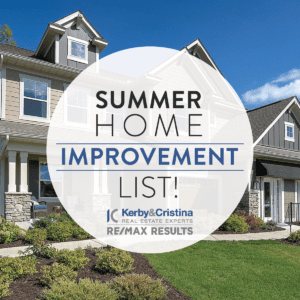 Summer is the perfect time to get started on your home improvement list. The weather is warm, making it easy to want to be outside soaking up the sunny days. From sprucing up the exterior, to adding shelving and organization in the garage, there are plenty of easy ways to improve your home this season! While some repair and electrical needs may require help from a professional, many home improvement projects can be done by you and your family! If you need help getting connected with any professionals, we have a list of preferred vendors that our team recommends. We would be happy to pass along their contract information based on what type of project you need help with. Simply call us at 763-550-9800 or email office@kerbyandcristina.com with your project needs. Now grab your tools, cleaning supplies, and get started on the list below!
#1. Upgrade your ceiling fans
The summer is a great time to ditch those old ceiling fans and update with well-constructed fixtures. Not only can a higher quality fan make your home more energy efficient, but it can also improve the overall air circulation within the house.
#2. Clean out your gutters
Those summer showers often mean backed up gutters for your home. This can lead to a wide array of water damage and broken gutters! The best way to avoid these issues is by cleaning out your gutters and downspouts at the beginning of the summer.
#3. Install better window treatments
Window treatments can keep your house cool during those humid summer months. From blackout curtains to motorized roller shades, there are a number of options to choose from in window treatments based off your price point and preference. Not only can outfitting your home in window shades cut down on dangerous UV light and blinding glare, but it can also improve the overall look and feel of your home.
#4. Maintenance on your air conditioning unit
Summer is the time of year you want your AC running and working properly! Before temperatures reach their peak, hire a reputable HVAC pro to inspect and perform routine maintenance on your unit. It's also a good idea to replace your home's air filters as well. Home improvement stores such as Menards or Home Depot should carry your size of air filter.
#5. Power wash your exterior
To get the home ready for summer months we recommend hiring a professional to power wash the home's siding, driveway, and deck if you have one. This will make your house look brand new and improve your curb appeal!
#6. Shine up your windows
Cleaning your windows is one of the cheapest ways to give your home a new sparkle. We recommend using either a multipurpose cleaning spray or Windex, a clean cloth for wiping and paper towels for dying. Clean the windows using a circular motion with your hands. This is also a common project hired out to professionals.
#7. Organize your closets and pantry
Too hot to be outside? Organize the inside of your home by cleaning out closets or your pantry. When cleaning we always recommend donating or eliminating items that you have not worn in over 2 years to clear up closet space. In your pantry, check expiration dates on canned goods and spices. Eliminate any items that are expired.
#8. Seal wood decks
If your deck is looking a little tired, it might be time to seal it, and stain or paint it. Staining or painting your will make completely transform the look and feel of your deck. Your deck will be the perfect spot for spending time with your family on a warm summer night.
If done right, these summer projects can add significant value to a home, as well as provide long-term savings in the form of energy efficiencies! Plus, you can enjoy how great your home looks after crossing a summer home improvement off your list!