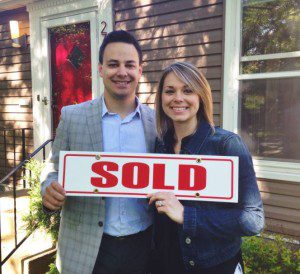 When I met with Matt and Stephanie for the first time over a year ago last spring, they were preparing for their Summer wedding and looking forward to purchasing their first home to grow into. We hit the ground running at the start of the new year and put up a good fight in the ultra-competitive spring market.
Steph was driving around her neighborhood when she noticed a home with a yard sign indicating it was coming to the market soon. We made an appointment to take a look, and it was a great fit, only a few blocks from the townhome they lived in, with an awesome large deck above the attached garage. They made an offer and snapped it up before it even hit the market, thanks to Steph's very watchful eye!
Steph and Matt are looking forward to hanging out on their new patio (just in time for Summer weather!), and welcoming their new Dog, Windsor, to their new home. Congrats, Matt and Steph!
Buyer's Agent: Shannon Walling