As always, I was excited to meet my newest clients and hear about their home purchasing goals! While Justin and Kayleen definitely seemed laid back about a lot of what we discussed, including being flexible on a lot of their search criteria, they were certain about two things: living in Minneapolis, and finding a home before their already planned two week trip out of the Country.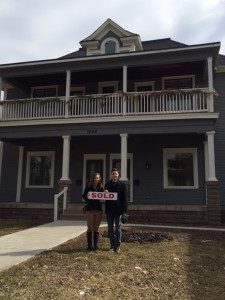 After exploring both single family homes and a few very interesting duplexes throughout Minneapolis, I'm happy to say that we were able to meet both of their primary requirements! Justin and Kayleen ended up connecting with some mutual friends who pointed them in a slightly different direction than they had originally expected, but they knew it was home when they walked through the front door of their duplex in the Hawthorne neighborhood.
It was an absolute joy helping Justin and Kayleen negotiate their purchase and we were able to close just in time for them to leave on their trip the very next day! I am so thrilled for these two as they begin the next chapter of their lives as homeowners. They'll be sharing their contagious kindness and passion for their new neighborhood!
We later came to find out that the home Justin and Kayleen purchased had quite a fight to remain standing at different points along the way; for which they are extremely thankful it did! This 1910 home also has historical significance and will be featured in the upcoming 2015 Minneapolis & St. Paul Home Tour as one of the stops in North Minneapolis April 25-26. If you're in the neighborhood, swing by to say hello and check out this beautiful new home!
Thank you for letting me be a part of your journey, Justin and Kayleen!
Buyer's Agent, Leah Powers