Patrick has been a friend of mine since we were working together at General Mills back in 2006. He and his wife Kate have used us to help them sell their first home and purchase another in Plymouth in 2013. A few months ago we saw each other in the airport and Patrick was visiting the Indianapolis 500 and I was at a sales training in San Jose and we came to a conclusion that we should get an updated valuation done on his property.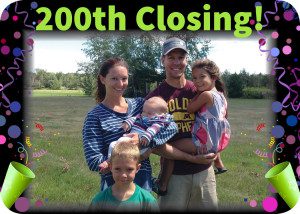 Cristina and I visited their family one Friday night and brought over some Five Guys hamburgers and decided that it looked like it was a favorable time for them to consider selling. We listed their home at a price that was definitely top of the market, and within a week or so, we had an offer at near asking price. Pat and Kate wanted to move into a home that was more along the lines of what they were envisioning with a family of five and Kate working from home, so they were thinking four bedrooms up and an available office would fit the bill perfectly. They also want a community with younger families and a community pool.
We located a great home for them in Medina and as soon as we had all the details worked out, the transaction came together. It was a fantastic scenario and a great move for them to be able to transition from the home that they love to only love another more.
We look forward to watching them as their family grows into their new home. We wish you the very best Pat and Kate, and look forward to many years of friendship in the years to come!