Joa Koeneke and I are friends from a long, long time ago when we used to go to Wooddale church. We were a part of small groups together and we have just kept in touch over the years  – we both lived in Uptown and had "Wine Nights" together with our friends, and now we are both married!
She and Andy reached out to me to help them buy a home. They were looking for something very specific in Minneapolis, but wanted to stay within their price range so that they could still have affordable monthly mortgage payments.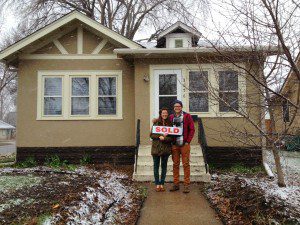 So we went out several times looking at properties, negotiating on a few of them, and made several offers on different places, including a few that were in multiple offers. Finally, they saw this home pop up and made an offer right away and saw it and we got it even though there was a ton of interest on the house! But we were the first offer, and it was solid enough to get them the house they wanted!
They got everything negotiated – it was a gorgeous home! They took my recommendations of getting a radon inspection, which was great because it came out pretty high but we were able to get the sellers to remediate that prior to closing so that they wouldn't have to worry about that when they moved in., and we ended up having a seamless closing!
Joa and Andy are awesome people. They are super fun and both kind of artsy, too! It was really fun to be able to help them and we look forward to being a resource for them for a really long time!