I met John and Jonell several years ago when they were first thinking about purchasing a villa they could downsize into. However, it was more important for them to be in the right development, ideally new construction, than to adhere to a specific moving timeline. We explored several different developments over the years, even going as far as pricing out some options, but it did not end up making sense for them at those times.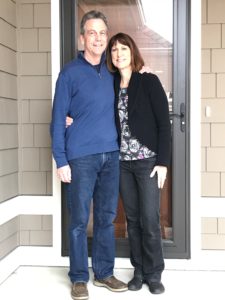 We stayed in touch and kept an eye out for the ideal development. Throughout that time, I also made sure that they were kept up-to-date on their home's value and gave them counsel along the way, including staging tips. In fact, last year we even took 'green photos' – photos taken in the beautiful summer/early fall months, so we'd be prepared to market the home at any time during the year, should they have found the right place in the wintertime.
Finally, when a new main level townhome became available in the development we had originally scoped out, they checked it out and fell in love with it. From there, we priced out a few changes and had conversations with the builder to make sure this would be the ideal place for John and Jonell. We made an offer and got it accepted before the Parade of Homes. Since this was the model, it was nice to have it locked up before more buyers came through the door!
Once we had locked in their new place, we officially put their gorgeous, existing home on the market. The first buyer to come through was extremely interested and had had her eye on their neighborhood for a while. We were able to get the home sold within a matter of a few days, and even lined up the closing date so they could move into their new home and then sell their old home just a couple days later!
John and Jonell, it has been wonderful working with you. I am so happy you have found your forever home. Congratulations and enjoy getting settled in for the holidays!
Lead Agent: Cristina Edelstein-Skurat