Spring is in the air! Or at least it will be in hopefully the next month or two. For those of us who have called Minnesota 'home' for any period of time, we all know that everyone hunkers down during the winter and once the snow starts to melt, we all come out of hibernation. So now that you're starting to thaw out, you may think it's finally time to sell your home. Whether you've been questioning that decision for several months, or you just got the itch recently, you'll want to make sure your home is in tip-top shape to sell it for the best price, in the least amount of time.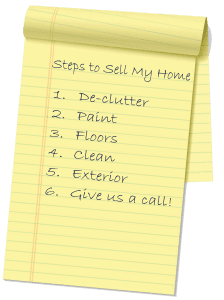 People always ask me why the spring is the best time to sell. The largest number of buyers are actively searching for new homes during the months of April, May and June in hopes of moving after school is out, when it's warm, and when they have the best chance at finding that 'dream home' in the perfect neighborhood. If you want your property to stand out from the competition, it's going to take a little extra effort on your part, but it'll definitely be worth it in the end.
So what can you do today to prepare to jump on the spring bandwagon? A few easy, and pretty inexpensive things you can do include:
De-Clutter:

I know it's hard to imagine cleaning out those storage rooms, extra closets, and attic space, but doing a little cleaning makes your home appear larger to potential buyers. Start small by tackling one room at a time. Set aside 'donate' piles, 'sell' piles, and 'trash' piles. When it's time to move, you'll be thankful you have less to pack!

Paint:

This is another cheap and effective tool that makes a huge difference when selling your home. If you've been little more 'bold' in your design choices, we recommend finding a neutral beige or cream color to brighten the walls instead. You may love your bright green bathroom, but the average buyer may not be able to look past your color selections and a neutral color appeals to buyers of all ages. The lighter colors give off the appearance of larger rooms as well. If you've still got wallpaper on the walls… it's time to say goodbye! Tackle it on a Sunday afternoon or hire a professional to scrape it all away. Make sure you touch up holes, marks, or wear and tear in all your rooms too!

Floors:

Whether you've got carpet, hardwood, tile, or laminate, make sure they're clean! A professional flooring company can give your flooring a new lease on life for relatively inexpensive. It will make a world of difference!

Clean:

Wash the windows, drapes, cupboards, fans, fixtures, appliances, tile, tubs… if you can put a rag to it, you need to clean it! No one wants to come into a home and see your moldy grout, nose-smudged windows, or crumbs on the floors… so start that 'spring cleaning' a little early to take some of the stress out of the process.

Exterior:

As soon as the snow starts to melt, get yourself outside to make sure your home is looking good. Buyers will want to make sure the outside of the home looks just as good as the inside, so make sure your home as great curb appeal. Add some flowers, mulch, get your grass is great shape, and keep the exterior looking spectacular. A buyer will form their first opinions of the home before they ever step foot in the front door.

Give us a call!

Let one of our professional designers help you sort through the tasks that you need to complete to make your house stand out from the competition.
I know that preparing your home can be such a daunting task. We have professional stagers that come in to meet with all of our clients whenever they're ready to suggest some simple and easy things they can do to prepare the home to sell. We'll also leave a 101 point checklist so no stone goes unturned when getting your home ready for the market. If you'd like to meet with one of our stagers, or want to start tackling the 101 point list, give us a call today!
We go into thousands of homes each year, and there is a noticeable difference when a seller has taken the necessary steps to prepare their home to sell. And in the end, it pays off because they sell their home in less time, for more money, so they can move on to their next dream home! If you want to ensure your home sells as quickly as possible, and for the highest price possible, take the next few weeks to follow these 6 easy steps. It may take a little bit of time, but it will certainly be worth it!