Summer is in full swing in Minnesota. We just love this time of year. If you're like us, these endless summer nights are amazing. The grass is lush and green, the flowers are in full bloom, and the patio is ready for your next get-together with friends. Fast forward five months. We're talking about the DEAD of winter and -30 degree temps. Does the outside of your house look as glamorous in January? Sure, give it a few months and warm days and it'll look just as amazing as it does right now, but it's really hard to imagine the stripes on your freshly cut lawn when you're looking at mounds of dirty white snow and leafless trees.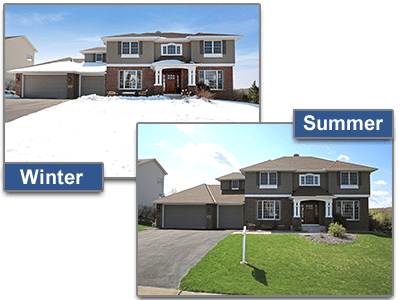 Maybe you're already planning on selling your house come 2016, or maybe it's not even on your radar… but we want you to PUT it on your radar. Every winter, the number one complaint we hear from our clients is that they wish people could see how beautiful the exterior of their home is during the summer. That's where we can help! We see photo upon photo of their gardens, flower beds, custom patios, new siding and stone work, water features, and well-manicured lawns but their camera phone just doesn't quite do justice to their new exterior, professional landscaping, or two-tier cedar deck. Call me crazy, but wouldn't you want to have potential home buyers see your flowers instead of your dead grass?!
So… what can you do today? Call us! We are currently scheduling our professional photographers to take exterior photos of upcoming listings and we'd like to add your home to the list. Don't worry, you can keep working on the inside to transform it into what you want it to look like when it is time to list. When you're ready to list, we'll get the photographer back out to take professional photos of the inside of your home. Photos sell homes, and we want to make potential buyers stop and appreciate the beauty and care that you've put into your home over the years and we want to showcase it when it's at its best.
The last thing we want is the calendar to determine when you sell your home and we would never want you to wait just so your hosta can bloom, or the leaves to green up a bit more. We want you to sell your home at a time that is convenient for you, and by getting your photos taken now, we can help remove one stress or in the process! Call us today to get the ball rolling so you can sell your home for top dollar.