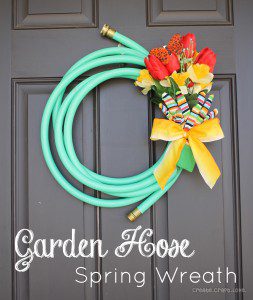 While the weather is finally started to look a bit nicer, this Spring Wreath is still worth a try! It adds a nice touch to the front entrance of your home as well!

Here's what you'll need to make it at home:
15 foot garden hose
Twist tie
Silk flowers
Butterfly clip
Garden gloves
Ribbon
Start by coiling the hose and secure it with an extra large twist tie. Trim the silk flowers then just randomly stuff them into the twist tie until it looks how you want it to look. Add the Garden gloves and secure it with the ribbon! It's that easy! Give it a try!