Ryan Welty is a friend of Ted LaFrance. Ted is a past client who owns an awesome snow and lawn care company…he's really good if anyone needs it! He took care of our rental property for snow during the winter months!
Ryan works for his dad's company as well as doing lots of outdoor guiding, wilderness guiding, and teaches kayak classes, if anyone is interested!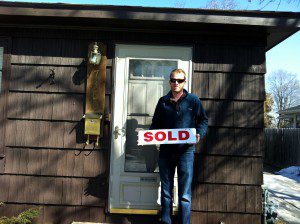 Ryan started off hoping for a riverfront or lakefront property, but we just could find the right fit for him since a lot of them needed lots of extra work. Then we focused on his ideal locations instead, locations that would fit his needs and were relatively near his work.
We ended up finding an awesome St. Louis Park Home with a very large lot. The home was dated, but Ryan was looking forward to doing some work on it.
During the final walkthrough, the previous owner showed up. She was the only previous owner of that home, and had lived there for a long time. She showed up with her grown children and their spouses, and with tears rolling down her cheeks, shared stories and memories from every room in the house as they all said their goodbyes. She was happy to meet Ryan and knew he was the perfect person to take good care of this home that meant so much to her family.
Ryan, we are so excited for you in this exciting new adventure of owning a home! Congratulations and best of luck!!