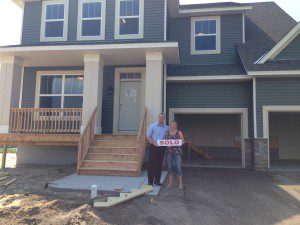 I met Joe and Molly when Molly reached out and asked about a lot that she was interested in. So we met and discussed the possibility of them building. They had been keeping their eye on the market for a bit and on what houses offered and did not really enjoy what they could see in existing homes.  They were thrilled to hear that I had some relationships with builders in the area that we could connect them with to help them build their dream home.
So, we set up a couple meetings and were able to build with Capstone Homes, who was able to get them their dream home in their price range. It was very exciting to be able to make all their selections and pick out their floor plan. They definitely got one of the best lots in that development there with a really big yard! It's going to be a really nice home for them! It's been fun to see the whole process and progress of the house! We did the final walk-through and it was awesome to be able to see the colors and their selection come together! It's a really sharp-looking home, just blocks from where Joe works!
I'm super excited for them! I think this area of Andover is going to be really nice. There is a lot of shopping and different things going up nearby so it'll be a convenient place with solid resale in the back-end, too!
Congratulations, Joe and Molly! Hope you enjoy it a lot!