Fausto and Nancy Bermeo are a really nice couple from Ecuador. I met them a long time ago, over a year ago actually, when they first started looking for a home.  They really wanted to be either in Columbia Heights, or some around there. We found a couple places for them and when we had gotten an offer accepted on a house that they wanted to buy. The very same day the offer was accepted, he was laid off from his job, which was so disappointing.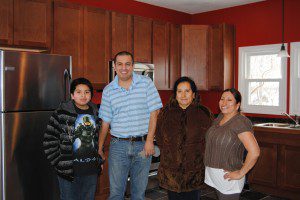 Several months later, he got the job back and we were able to pick it up again with the home search and kind of kept refining their search until we landed on a beautiful home. The home is in North Minneapolis by Victory neighborhood by Victory 44th. It was completely remodeled with a really nice formal dining room, two stories and all new exterior, and a finished basement. They aren't very many houses like that in Minneapolis! They got a fabulous price on it and are super happy with their home!
They are now moved in and getting settled and they are really happy there. I have greatly enjoyed getting to know them and they have been absolutely fabulous at referring their friends and family to us, and we always greatly appreciate that!
We hope they continue enjoying their home ownership this summer in their new neighborhood!