Kan is an international student from China, and is working on her doctorate at the University of Minnesota. She is super smart! Kan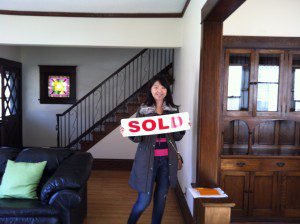 wanted to buy a home because it cost less than renting an apartment in the cities, and is planning on renting out the other rooms of the house while she's in school (told you she was smart!).
We had a great consultation and I explained the buying process and all the opportunities she had as a buyer.  I set her up on a search in the exact neighborhoods that she wanted to be in that would make it easy to commute to the U of M and easy to find renters for the other rooms.  Her main focus was South Minneapolis – she loved the old charm of the homes in that area.
Kan found a lot of great options early on because we had discussed everything beforehand during the consultation. Her new home is amazing – with stained glass windows, built-in woodwork and a built-in hutch. The updated kitchen was a huge plus for Kan.
We had a very successful and speedy closing. When we negotiated on the purchase price, we were able to negotiate a lot of the furniture into the contract, so when Kan moved into her new home, she didn't have to move mattresses or couches. She moved into a furnished home! I know Kan is excited to move in and find renters for her to make some income while she is in school.
We are super happy for her and hope to be a resource for her in the future! Congratulations, Kan!