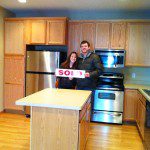 I met Nate and Lindsey Thompson through two ways. First, Nate had signed up on our home search website that he really enjoyed for several months. And two, he happened to work with our friend Ryan who mentioned that we were his realtors. When Nate realized we were one in the same, he was super happy to meet with me and do a buyer consultation.
We met at a Caribou and had a wonderful conversation about whether single-family homes or townhomes might be the best fit for what they were looking for. Neither of them is originally from Minnesota so we talked a bit about some of the different areas and what could offer them the most updated and new type of living so they wouldn't have a lot of maintenance to be worrying about.
We ended up narrowing it down to this wonderful townhome in Blaine that is actually part of the Lakes development there, which is absolutely gorgeous and wonderful with a chain of lakes and parks and beaches. It's a wonderful master association and offers a lot of benefits to the people that live in that area.
Blaine is also extremely nice. And we got this townhome for a smokin' good deal and a great price. It's got a ton of space…enough to have an office in there as well!
It was wonderful working with them! I remember the day that we found that townhome…it was literally one of THE coldest days in January. I thought I was going to FREEZE my fingers off, but thankfully I didn't! J
It was really fun working with them! We hope they are loving it and look forward to being a resource for them and connecting with them again and again to see how their house is. We hope they are enjoying being homeowners!