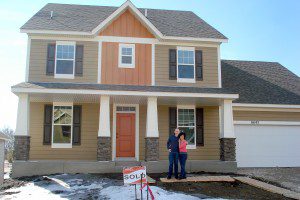 Months ago, a friend of ours referred Jesse and Anna to us. They needed to sell their one bedroom condo and were looking for a single family home to start off their new marriage. Along the road, we looked at older homes and they decided that wasn't the right fit. Then, as we neared newer homes, they started liking some of the home styles better, but there was still something not quite right for them with previously owned homes. I took them to a DR Horton development in Plymouth and in the Wayzata school district and they fell in love with the home!
It's HUGE, gorgeous and with an amazing floor plan: a two story with three bedrooms on one level, an incredible master suite with everything a couple could dream of, laundry upstairs and a wonderfully open kitchen/dining/living room area. In addition, the main level has formal entertaining space and an office. The lower level boasts a great family room and a guest bedroom, in addition to a sharp bathroom. What more could a young family look for with the prices and incredible interest rates?
Shortly after that, they accepted an offer on their condo and they are set to continue enjoying their new marriage. Congratulations, Jesse and Anna! We wish you many wonderful years in your home as you settle in and a very blessed marriage!