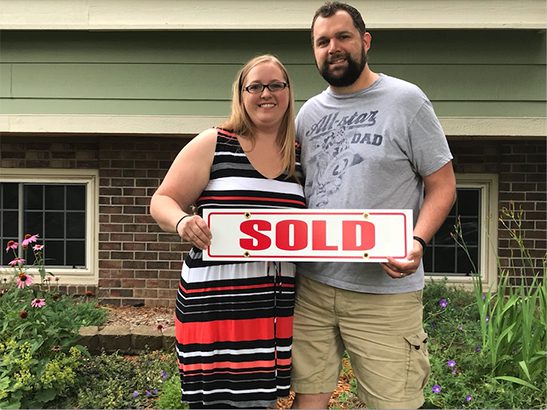 John & Kelly are friends of ours from church. We first started their home search about 4 years ago, when they were in their first townhome. However, the timing wasn't right for them at that time, and the market conditions were more challenging for the sale of their townhome. However, we kept an eye and an occasional look at actual homes over the next years, until they had their second baby boy!
At that time, the urgency for more space was evident, as well as the overall readiness to make a move. The market conditions were great for the sale of their townhome! On the flip side, we were certainly in a crazy competitive market for their purchase! We were aggressively looking, making proactive offers and being creative about our search. We weren't desperate, which was good! We sold their townhome quickly, freeing up their ability to purchase non-contingent and they had the privilege of living at their parents' house for a few weeks in the transition. We looked at tons of homes and made offers on several of them – almost all of them in multiple offers!
Their dream was to stay in Maple Grove, but we had expanded the search to Champlin. However, on one perfect storm of a weekend with several new homes popping up on the market, we saw the perfect home come for sale in Maple Grove. Their family worked with them and we made an awesome offer right off the bat, with a beautiful letter to the seller. It worked!!! Even at the closing table this morning, Mrs. Seller shook her sweet hand at them, smiling, saying, "It was your letter that did it for me! I knew I wanted a young family to be taking over my home and I'm so happy to see you moving into it!"
John and Kelly were ecstatic to be moving into their family home after all this time and know this is the perfect home for them in the perfect location! I'm so excited for you guys!!! Enjoy your new home and best of luck as you settle in this weekend!
– Agent, Cristina Edelstein-Skurat