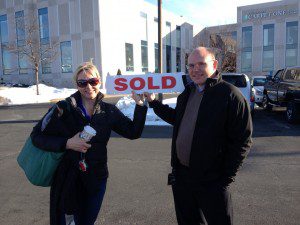 Following a job to Minnesota, Dave and Liz Regenold left Colorado behind and brought their family north to Plymouth.
At first, it looked like it was going to be a quick and easy close. I used FaceTime on my iPhone to show the Regenolds around the property on Jonquil Avenue, and they liked what they saw on their little 5×9 inch iPad screen enough to put in an offer.
Things got bumpy quickly after that. After an initial failure to de-winterize the home for the inspection, we were then locked out from an appointment due to an early lock change- and poor Liz had driven down all the way from Brainerd to take measurements for carpeting.
After that, we hit snags everywhere we turned when trying to get the house to close on time. I spent the final week before closing in constant contact with the Regenold's loan officer, and we were thankfully able to get the house closed on time.
Now the Regenolds are dreaming up new and exciting home renovation projects to keep them busy for the next few months. Dave's skills as a woodworker and Liz' handiness around the home will no doubt come in handy.
Best of luck to the Regenolds and welcome to Minnesota!
Sincerely,
Ryan Bunke
Real Estate Agent
Kerby & Cristina Real Estate Experts