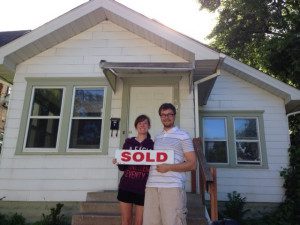 I met Matt and Hope when they set off looking for a home. They were first time home buyers and a young couple looking for that perfect starter home in a budget that would allow them to pay their home off in about 5 years.
Matt and Hope are both from small towns and were both in school/graduating in the spring. Matt went to school in the Twin Cities area while Hope was in Mankato. It was a great time to be able to get them out looking at houses when they would come for visit. After seeing a few homes, they finally ended up with a wonderful home in Minneapolis that fit their budget and was in good condition. After getting it negotiated, the process to closing went pretty smoothly.
Hope literally moved up from Mankato the day before they closed on their house. Now they are settling in and painting the house to colors that suit their tastes. In addition to painting they are settling in to their new positions as well. Matt is a software developer and Hope is a creative writer.
Congratulations on your new home Matt and Hope! Enjoy getting settled in and getting to know people in the neighborhood, as well as at your new jobs!
Cristina Edelstein-Skurat