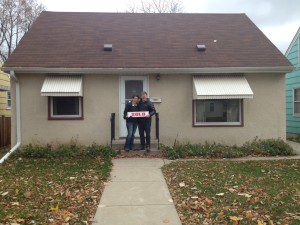 Dan and Katie came to me by way of a close friend of mine. They wanted to buy a starter home that would fit some unique things they were hoping to achieve with the purchase of their first home – to be small enough to make sense and above all, to be in an ideal location that would allow for future rentability of the home. Their long term dream involves building a specific little home they are envisioning!
We met for a consultation and really got to dive into the details of what they wanted, and even flushing out the differences they had in regards to location, whether they should focus on single family homes at a certain price point or duplexes at a different one.
We set them up on the right searches and identified the top best options for us to look at. Our amazing teammate Sarah did a GREAT job, even at 7 am showings, in helping identify the best home for them. When this home by the U of M came on the market, we jumped on it and got it locked up! It is a perfect fit for their needs and we were able to address and figure out inspection items to make sure the home was at a place that made sense for them.
Dan and Katie, congratulations! We are so happy for you!!!
Lead Agent, Cristina Edelstein-Skurat