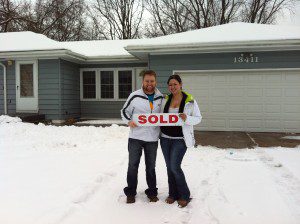 Mike and Lindsey are engaged and getting married this summer! Mike was actually in a wedding that both Kerby and I we in as well a couple of years ago. Since then, we've just stayed in touch with Mike.
It's been a fun experience watching Mike's search change and shift as his relationship with his then-girlfriend matured and deepened. At first, he was ok with a real fixer-upper, but as he and Lindsey became more serious, they changed the focus of what they really wanted as a couple.
Both Mike and Lindsey have such great senses of humor. They were super fun and super easy to work with! I hope they enjoyed it as much as I did!
They will enjoy their huge place in Minnetonka and will really enjoy the 2nd kitchen and bathroom on the lower level! It will be awesome to be able to have friends live with them and offset some of the mortgage payments. The home features a deep garage, a super nice kitchen, and most importantly for them, a perfectly sized and perfectly located lot!
We are so happy for you two, for your upcoming wedding and marriage AND your new home! Enjoy!