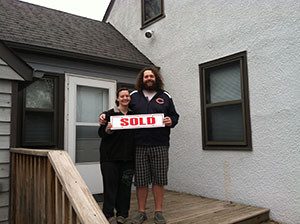 Andy and Bethany are a fun couple that have a great sense of humor. Their plan was to move from New Hope farther south so both would be closer to work. Our main challenge was selling Andy's house and finding a new one with as much character, charm, and square footage. Andy's current place had a huge deck with bar, kegerator, and 4 outdoor ceiling fans. Along with plenty of rooms for friends to stay it is an entertainers dream. Bethany liked the character but was ready for some "quieter" amenities.
Once Andy's house was listed we started the search. After about a month and a half of showings we found a perfect buyer for Andy's house. Now the heat was on to keep Andy and Bethany from being homeless! Alas a single family house in Bloomington, with more square footage, heated tile, huge back yard, dog run complete with doggy door, and a secret man cave above the garage. After negotiating our way through a small hiccup in the appraisal we were off to closing and everyone was happy.
Congrats Andy and Bethany on your new home!
Seller's and Buyer's Agent: Eric Wozniak