Ken and Laurie are friends of mine from church and just all around great people. They reached out to me to help them sell their home in Brooklyn Park and find a bit of a smaller home closer to Minneapolis. When we first met, we landed on a price a bit below what we ultimately listed it at because it was the early spring market and we hadn't seen many homes sell around their Brooklyn Park home yet. We had our stager out and she gave them a list of recommendations to take care of to make the home "showing ready". Ken and Laurie executed on that list flawlessly and did everything that was recommended. When we reviewed the market before listing (about 60 days after our initial meeting), we realized that some other homes around them had sold for a bit more than what our original comparable sales supported, so we listed the home even higher than what we originally came up with. Within the first day of listing the home, we had multiple offers and both were OVER the asking price! Ken and Laurie were thrilled!
They decided to do a short-term rental while they shopped for their next home and after a few visits out with our team to various homes, we found a home that was PERFECT. It was a cute 3-bed, 2-bath, 1.5-story in a very sweet little pocket of Robbinsdale. Our team got them in the home immediately and we wrote an offer $5,000 over asking price to ensure we didn't go into multiple offers. I worked hard to get the agent to agree to our offer before others put an offer in and WE WON! We did hit a small appraisal issue, but we were able to negotiate a bit more off the asking price to make it work out. We closed on their new home and again, they were ecstatic with the outcome and the home. The new home has a hot tub, so Cristina, myself, and the whole team are pumped for them to have us over for that first hot tub party!
Ken and Laurie, we couldn't be happier to have the opportunity to work with you and serve you. Thank you for your trust in our team and our process to help you sell for TOP dollar and win in a VERY competitive market to buy your next home! Also, thank you for your stellar review… it was too kind!
Lead Agent: Kerby Skurat
Client Review: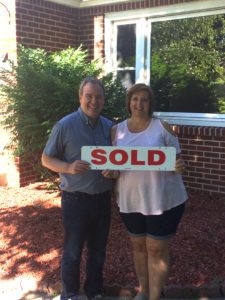 "We had a great experience with Kerby and the team! They provided great insights into preparing the house for pictures and showings. They warned us about the number of showings. They had great insights into a fast changing market. They assisted with items that came from the inspection. The team was confident, but not cocky regarding their knowledge of the market and what needed to be done to prepare the house for sale. We appreciated the insights that saved us money in prepping the house – Carpeting, Painting, Flooring in the bathroom that we did not replace. Thank you!"
-Ken & Laurie