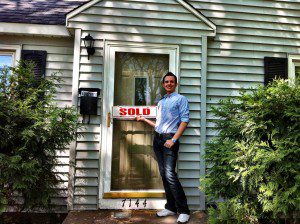 Matt called me one day, having found our home search website, www.MinneapolisHomeViewer.com , saying he was ready to start searching for a  home. He was in a time of transition and major changes in his life, and having new opportunities, wanted to seize this great market and buy a place he could call his own.
We had a buyer consultation at Caribou Coffee and discussed his priorities and needs (no major fixer upper!); connected him with a loan officer and he was pre-qualified within a few days. We went out a few times and looked at homes, narrowing down the options more and more to his priorities, especially having a location that was within 10 minutes or so from his work, and that would offer him a great fenced-in yard for his dogs. One day, we found the right home and made an offer immediately, negotiating a deal before the scheduled open house that weekend. We locked it up and the house was Matt's!
The inspection went great and Matt returned to the house a couple times to get bids from contractors for some wonderful updates he wanted to make to the house, including a privacy fence, refinishing the rare hardwood floors underneath the carpet and plans for a future deck. The house is going to be incredible! Matt, it was so much fun getting to know you and to see you find a place where you can settle in and add all your own finishing touches!