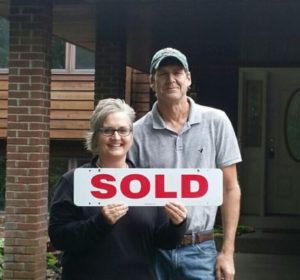 Believe it or not, we first started talking with Larry and Julie about their desire to move from their beautiful Plymouth home (which we will be listing soon!) to some more acreage in the NW metro area. They knew that what they were looking for was special, and also that they were not in a hurry. As usual, our priority is our clients' goals. So we sat down and really discussed what they wanted and kept an eye on the market over the next two years. Every so often, some good potentials would come on the market and we would take a look at them, but most of them didn't end up being the right fit.
This summer, we really picked up the search. Larry and Julie were ready to make the move and there were much better options on the market. We found a great house first, but during the inspection period, decided there were too many factors that didn't match up for this to be the "perfect home." Thankfully, we are always creative and kept looking at other options and immediately found the perfect home for them, without the mysteries of the other one, and cute as a button! We were so excited for them! This home is a great fit for them and gives them the space and privacy they have been wanting for so long.
Larry and Julie, you have been wonderful and we are so very honored to be able to serve you in achieving your real estate goals! Thank you so much for that! Enjoy our new home and land! We look forward to selling your Plymouth home!
Lead Agent: Cristina Edelstein-Skurat