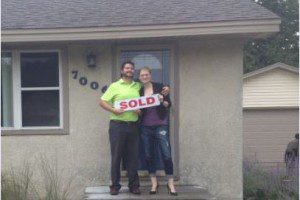 Robert and Chantal are a great couple. They learned early on that their current rent payment was way more than a mortgage payment and figured why not buy and start building some equity. After walking them through our SMART home buying process they informed me that they were already preapproved with a very large local bank that will remain nameless. 🙂 We were off to the races as they say.
Robert and Chantal knew exactly what they wanted and after looking at a great rambler at an affordable price in Crystal we submitted an offer. After some negotiation our offer was accepted and since no issues were found during the inspection it was time for the appraisal. Bam! This is when we found out that Robert and Chantal didn't qualify with said bank! Talk about frustrating! We weren't going to give up though and after exhausting our contacts the last try came through!
Moral of the story, all bank preapprovals are not created equal. If you are unsure of your pre-approval status or what bank to use, I can surely point you in the right direction just as I did with Robert and Chantal to get them approved. By reacting quickly, not giving up, and keeping our goal in sight Robert and Chantal didn't lose the home they really wanted. Congratulations again Robert and Chantal and cheers to the happy times ahead in your new home!
Buyer's Agent: Eric Wozniak