I have had the honor of knowing Andy for years –before he met his better half, Katie – and even before I transitioned out of a desk job in Corporate America to Real Estate! A lot has changed since we first met: I've had 3 kiddos, he met and married his amazing wife Katie, and I had the privilege of guiding them through the sale of two townhomes and the purchase of their first home together as a married couple!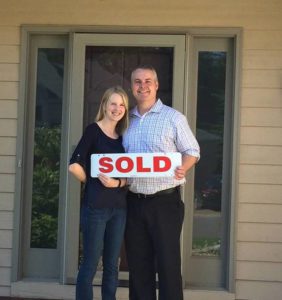 It's been quite the ride beginning last Fall when we sold Andy's townhome after just one day on the market (in multiple offers) for full price! The sale of his townhome went quickly, once Katie helped him 'declutter' and we closed on his home in October. Fast forward to this past Spring and the happy couple were married on my Birthday! Quickly following the return from their honeymoon, we started discussing getting their new home search started to find their Mr. & Mrs. home together. After meeting to align on their new home goals, needs, and wants, we were able to narrow in on some great potential properties.
We quickly found a property that met all of their needs, including a great kitchen/entertaining space, a wooded, private backyard, and an amazing backyard entertaining fire pit & outdoor bar all at an incredible value! Once we knew we were on track to closing on the purchase of their home, we worked to get Katie's townhome SOLD. Though we had discussed the potential of overlapping ownership, we had a similar experience to the first townhome sale and received multiple offers within the first day of being on the market again! We quickly negotiated through and had a closing date set for just 1 month after they closed on their new home! Everything was falling into place wonderfully and we were on our way to the Purchase and Sale of their homes!
As with every adventure in life, we ran into a few bumps along the road, but Andy and Katie were able to sit back and enjoy their new home as we worked through to closing on their final real estate transaction of the year (right, guys?). Yesterday we closed on their 3rd real estate purchase/sale and while I will probably go through withdrawal not being in touch with them as frequently, I am happy to report they are loving their home and enjoying home ownership of just one property.
Thanks again for letting me be part of your entire journey, Andy and Katie! I am so grateful for your friendship and wish you all the best in the years to come in your new home!
Buyer's Agent: Leah Powers