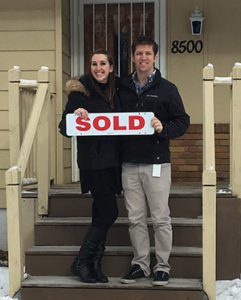 Kelsey has been dreaming of being a homeowner for a couple years. As first-time homebuyers, we were able to help them navigate through the options and strategy and getting all their "ducks in a row," so to speak. Kelsey and Jon planned their strategy and their finances in order to make a decision they felt confident about from a timing perspective, all the while tracking the market and housing options in their desired areas and price range for a period of time.
We waited a few months before they were "ready" to pull the trigger, but then when they were, we found the perfect home for them in New Hope. It is a gorgeous one story right by Meadow Lake. There were a few items that surprised us in the inspection, but we were able to negotiate to have the sellers address the biggest issues and concerns, which worked out great for Jon and Kelsey! They moved in this past weekend and had the help of a lot of friends.
We are so happy that you two finally have a real house of your own to call "Home"! Congratulations and thank you for the privilege of helping you achieve your dream!
Lead Agent: Cristina Edelstein-Skurat