I met Jim and Jan last fall when they were first thinking about downsizing from their fabulous two story. We discussed their options, price ranges, goals and I got them set up on a customized townhome search. We decided that based on their goal of making a move in the springtime, that's when we'd pursue searching for their new home more aggressively. Of course, they wanted to focus their winter on being down south where it was warm!
We did agree, though, that it would be a very helpful strategy for them to have us help them with the process of getting their home market ready from the get go so they wouldn't have a lot piling on at the very end. We didn't want them to feel rushed to get the house ready once we found them the right place. So we proceeded with the staging consultation and everything and they started tackling the main things before they headed south!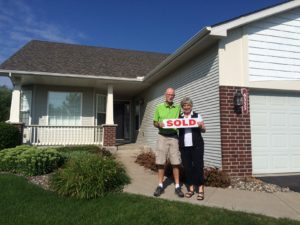 I kept them updated with listings and we chatted about a few of them here and there over the course of the winter. When they returned in the spring, we started looking, but not all the options were a good fit. When the perfect main level living townhome came on the market, we knew what to do! We jumped on it with a fabulous offer, got it locked up before others could get offers in and they bought it! 🙂
We then listed their house and sold it right away. So happy for you, Jim and Jan! Your goal of making the move this summer, and our pre-planning since last year has paid off! Congratulations and enjoy your new home!