I met Don and Peggy Gleason  because they were looking to find the perfect one level living situation and had not successfully been able to do that. We met in the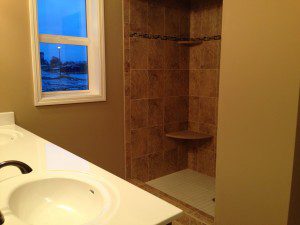 springtime and had a wonderful consultation where we evaluated their goals and strategies and we set them up on a set of showings including new construction. On that first outing, they instantly saw the builder and the lot that would fit their needs and we immediately negotiated on it to lock up the property for them.
It is a wonderful lot with a walk-out basement that backs up to a gorgeous pond. They have a perfect one-level living home set up now. It has a wonderful master with a walk-in shower and a huge walk in closet, amongst many other things! Their gorgeous open kitchen is quite spacious and very inviting with a cozy fireplace in the living room. The beautiful birch floors really add a lot of natural light to the home as well. They also added a screened-in porch that overlooks the pond and I know that they will greatly enjoy it!
It has been a real pleasure helping you find the right home and helping you lock that in before prices went up on new construction and interest rates and I hope you really enjoy your new Shakopee home!