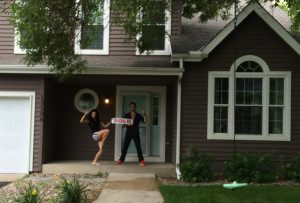 I met Raisa and her husband, Alex, when they reached out to us because they were looking to buy a home for their son. Gene and his wife, Elena, are professional ballroom dancers and they have an absolutely adorable little girl. First off, we set up their personalized search around their preferred area of Edina. They wanted something more updated and newer if possible that preferably did not require too much maintenance. However, they were open to doing some level of work since they had some cash to work with to fix up as needed.
We found a wonderful home in Eden Prairie and set off over the next several days to negotiate an aggressive price on the home. At one moment the seller accepted a higher offer but when the buyer walked away due to inspection items, we were able to lock it up at an absolutely phenomenal price.
Gene and Elena are very happy in their home! We hope that they are getting established and settling in and getting to know their neighbors. Thank you again for trusting us with your home purchase and we are so glad we were able to help you get into your new home. Also, Congratulations on your continued success with your professional ballroom dancing as well as your ballroom studio. Hopefully, someday Vivi will be able to learn a few moves there!
Cristina Edelstein-Skurat