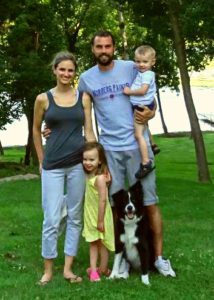 Will and Allie reached out to me over 2 years ago to get started on their home search. They had an adorable little home in Plymouth, but with expecting their second child, they knew they wanted to get into a bigger home. They really cared about a good yard with a private setup and had dreams of even owning a lake home. Knowing how limited the options could be in their ideal price range and desire to stay within Wayzata schools in Plymouth, we took the long view. We worked on getting their home ready for sale for whenever we found the home and stood on standby keeping an eye on good options as they came up. Of course, Will and Allie have phenomenal Pottery Barn tastes, so getting their home ready wasn't difficult at all!
But the home search took time. We looked at several homes over the upcoming months after meeting, which turned into a couple years. But the patience paid off! Our team found them a great home via one of our sellers who was in the process of preparing his home for sale and preferred to find a buyer who was perfect for his home over going on the market and having tons of showings. The home had absolutely gorgeous lakefront on a Plymouth lake, a dock and the lake is recreational – a dream for Will and Allie and their kids! It featured incredible views, 3 bedrooms on one level with a large master and a walkout basement with an in-law set up as well as a lower level spancrete garage for extra storage. It was perfect for their family!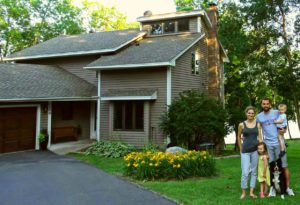 We suggested the home to Will and Allie and after setting up a private showing, made an offer. The home needed some work that was found during the inspection, but appropriate negotiations were done to make sure Will and Allie could address these concerns after purchasing the home. The wait was long, but worth it! I know they have been in the midst of painting, doing some basic updates and have plans for future updates to the right spaces.
Will and Allie, thank you so much for working with us! It was a privilege to help you and we are very happy for you! Enjoy your new home this summer and for years to come!
– Agent, Cristina Edelstein-Skurat