As the arrival of kid number four is quickly approaching, Cristina and I are taking time to get out on a few dates (we are pretty sure that once we have the fourth, no one will want to watch all four at the same time, so this could be the last "just us" dates we have before they are all out of the house! Haha!) We were trying to find a place in South Minneapolis, but as we drove in on a Wednesday night, realized that the construction was so brutal that we might want to try and hit Northeast. I remembered a little place we'd been to in the past, Costa Blanca Bistro, and we were promptly on our way!
We haven't reviewed this one yet, though we have been there. We wanted to share this one with you because honestly, it is pretty rad. You should really check it out. If you like to try variety of different dishes and make it a special time, this is the place. Costa Blanca is located on Central Ave and 24th St NE, in a zone with an assortment of different ethnic food joints. This one is a bit more "upscale" than many of the other restaurants on the same block.
The owner has three other restaurants and the website says, "Costa Blanca is Hector Ruiz' fourth restaurant in the Twin Cities. His passion for starting from scratch, love for cooking, and eye for creating not only tasteful, but beautiful works of art with different ingredients comes from 20 years in the industry. He takes his inspiration from his family roots in Morelos, Mexico and formal training in Paris, France to create dishes that are unique to the area." We have to agree; the food is AWESOME! And they have a whole selection of amazing wines and other drinks to try!
It is a tapas-style restaurant, so you can get a number of little dishes to share. Cristina is currently eating for two and I hadn't eaten that day because we were working so much… we were SUPER hungry. Plus, we knew we were reviewing it, so we went a little bigger than normal (don't judge) and ordered quite a few different dishes to show/share with you all.
Here is the rundown on what we got: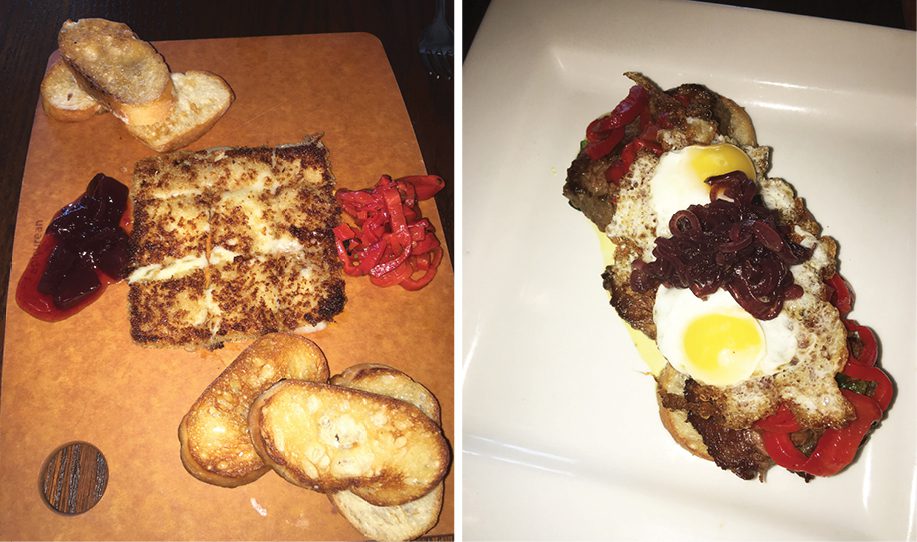 We started off with the Queso Frito (manchego fried cheese, garlic bread, citron peppers, red wine apples, red wine reduction). WOW… this one is awesome! It is like eating an upper-bracket grilled cheese sandwich with all the good sauces, but no bread, unless you put it on the side bread they provide! ORDER THIS!
Next up… Bistec (spicy pimento marinated beef tenderloin, garlic bread, piquillo peppers, quail egg, red wine shallots, saffron sauce, micro greens). I ordered this both times I ate there, and I can say without a doubt, I will get it the next time I go as well. The steak is PERFECT, the quail eggs are fun, and the sauce is beyond amazing.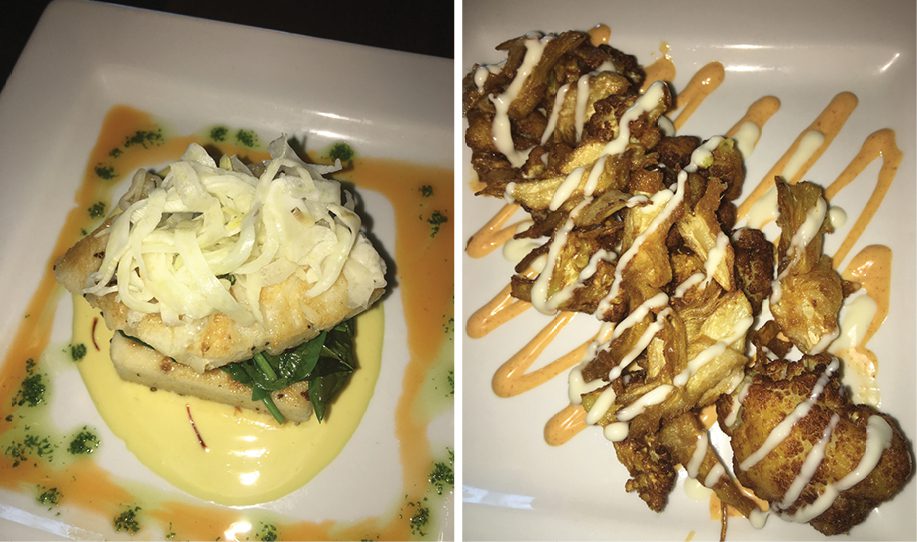 Can't stop at two plates… plate three… Mero (roasted sea bass, baby spinach, truffle polenta, micro greens, saffron butter sauce). This one was a little too fishy for Cristina. I thought it was ok, but won't get it again, as there are other items that blow this one away!
On to the Coliflor y Alcachofas (saffron cauliflower, grilled artichokes, beer batter, lemon aioli, pimento aioli). This was like REALLY exceptionally good state fair food but without the grease or frying part. I'd recommend this one if you're looking for a crispy app to get started!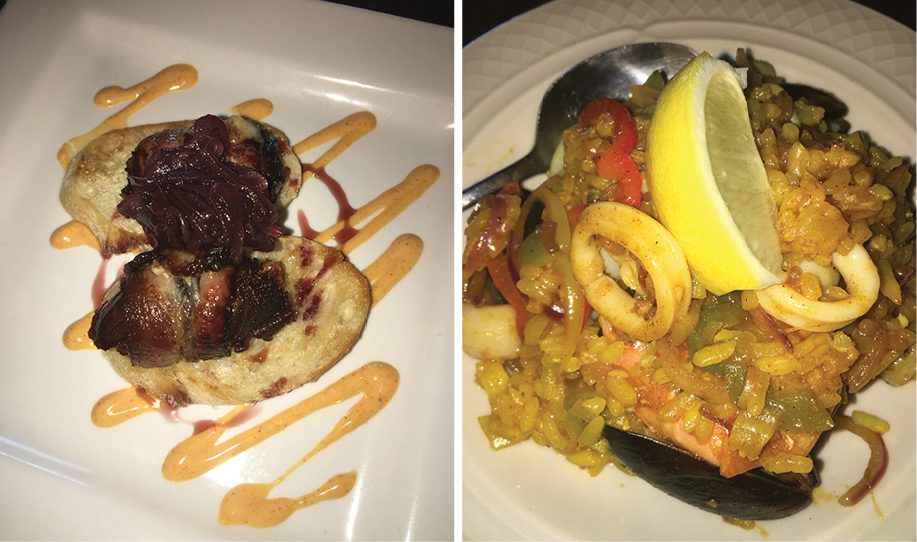 Datiles (smoked bacon, manchego stuffed dates, red wine shallots, pimento aioli, toasted bread, rioja glaze)… one word… PHENOMENAL! If they could just have these at Costco, you'd be off to the races for being the "hostess with the mostess" every time you have people over!
Still eating… time for Paella Marinera (mussels, scallops, calamari, shrimp, saffron bomba rice, peppers, onions, lemon wedges). I worked at Chino Latino while in college and their Paella is good stuff. Costa Blanca's Paella is on par with Chino Latino's. I'd definitely get this again!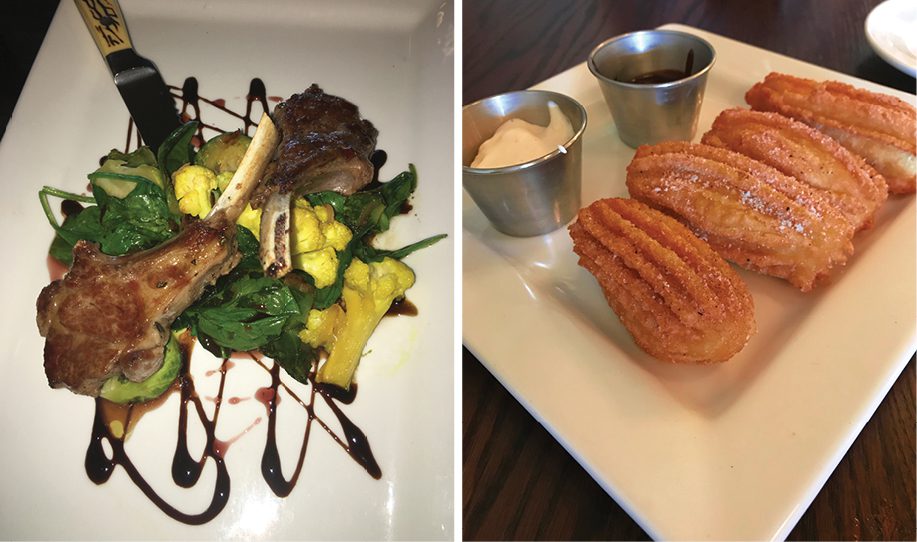 We just had to try the Cordero (rosemary marinated rack of lamb, saffron cauliflower, brussel sprouts, baby spinach, balsamic reduction, rioja reduction). This one is interesting… I personally like the Bistec better, but this was good. It has a bit more fat than the beef, however it was very tender. I guess, I'm 50/50 on this one.
We were already all in, so of course, we ordered Churros (dusted with charcoal pepper cinnamon, dark chocolate ganache, & vanilla mascarpone crema) for dessert! Cristina is from Mexico and a good street churro in Mexico is pretty awesome. We are happy to report, these DO NOT disappoint! The sauce was off the charts fabulous! A definite must have!
All in all, this is a place you need to check out. Nothing is bad, it is just all about preference. If you love to eat, this just might be your jam!
Costa Blanca Star Ratings
Food: 5
Atmosphere: 5
Price: 5
Overall: 5
Costa Blanca
2416 Central Ave NE, Minneapolis, MN 55418
(612) 789-9296