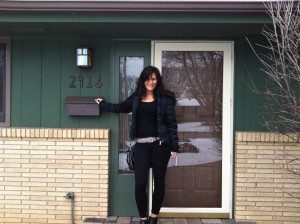 Danielle contacted me a while back. She's originally from Israel and was looking for a home in St. Louis Park. She knew exactly where she wanted to live and was very realistic about her price range. Danielle is a very hard working mother of two autistic children. On top of being an awesome mother, she is also a Pharmacist at CVS!
We met a couple different times to discuss the perfect fit for her family. Danielle was a total joy to work with. She is so fun, loves to laugh and is super funny!
Once she decided on the perfect home for her family, we did a second showing because she wanted to show one of her friends who is an investor, to get his seal of approval – and he approved with flying colors! We did some great negotiating for the seller to take care of several items so that Danielle and her children could move into their new home worry-free!
I am thrilled we found Danielle a perfect home in her price range in her ideal neighborhood for her family. Her exact words were, "I'm a very happy client!"
I look forward to being a resource for her over time! Congrats, Danielle! You and your children deserve this amazing home!