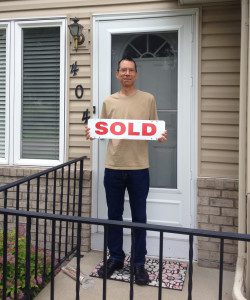 Jeff and I first met at my office in Uptown, a short walking distance away from Jeff's current apartment. He had been living in Uptown for quite a while, but decided that it was finally time to call himself a home owner. A computer technician at Mystic Lake Casino by trade, he wanted something closer to work, with as little maintenance as possible. Having served in the Air Force in his younger years, he was used to minimalist living and didn't need much in a home.
All Jeff really wanted was something comfortable, something clean, and something away from a lot of the excess noise and chaos the metro-area produced. With all of his preferences in mind, I set him up on a home search and it didn't take long before he was ready to go see some houses. Jeff has not owned a car for a number of years, so he rode shotgun with me for our showing excursions south of the cities. I must say, I always looked forward to our pre-road trip Brueggers' coffee and lengthy, on the road chats.
After two or three trips, we finally found a detached town home in New Prague. It was everything that Jeff had been looking for – immaculate, cozy, and close to work. We got our paperwork in to the sellers (avoiding a multiple-offer situation), and it was on to the inspection! Everything went smoothly from then on all the way to closing.
Thanks to a great team (shout out to Denny at WF), we were able to get Jeff closed right on time. It has been a pleasure helping you in your home search Jeff, and I wish you all the best in your new home. Welcome home!
Ryan Bunke