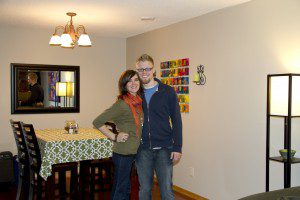 Steve and Kaia Boal are friends of ours from church. We have been friends since they were engaged and were also in a small group with them.
Kaia is a phenomenal designer and has worked with us in the past. Steve and his brother own an amazing window cleaning business, if you ever have a need, we would highly recommend these two!
We started off looking mostly at Single Family Homes but Steve and Kaia were committed to a certain monthly payment and realized that the homes they were looking at required massive amounts of work.
And that's when we started looking at Townhomes. It didn't take long to find the right Townhome for Steve and Kaia in Champlin in the perfect neighborhood for them. They have been able to fix it up and make it their own, as you can see from their beautiful photo!
We are really excited to be a apart of this process with them and hope they enjoy their new home for many years to come…and maybe even start a family there (hint, hint!)
So, Steve and Kaia, when's that housewarming party again? 🙂