I first met with Fernando and Ruth to discuss their home search. They definitely had been thinking more about purchasing an existing home, but as we started to explore options, it became apparent that new construction would be a wonderful fit for them. There was a solid development in Maplewood with townhomes that fit their budget. It was ideal for them to not have to worry about exterior maintenance, snow and lawn care, and they are both hard workers and would prefer to not have to shovel the snow! 🙂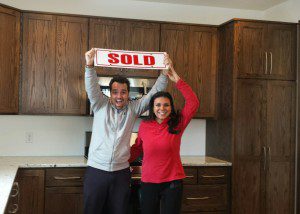 We were able to figure out all the specifications with the builder, and although we had to sort out many details throughout the whole building process to make sure we were on the same page with the builder on so many moving pieces, we were able to get their home built for a substantial amount less than most of the other homes in the development. They also locked in at an incredible interest rate.
Fernando and Ruth, I wish you the best as you settle in and hope you enjoy your beautiful new home. Thank you again for letting me be a part of your first home purchase, as well as your first home build!
Lead Agent, Cristina Edelstein-Skurat