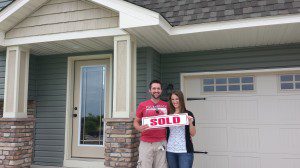 Brian is a cousin of a friend of our's from church. Brian reached out to us for expert advice and guidance as he was trying to find his first home. He was dating a lovely gal named Jacinda and was a part of the decision making on the home. Apparently, they got engaged after our first conversations and are getting married shortly after the home purchase. Congratulations to them on their engagement!
While on their home search, we explored different housing options for them in the west metro from total fixer uppers to new construction. They eventually ruled out the fixer upper category due to the amount of work and cash that was required to get the home to the condition they wanted. We ended up finding them a new construction home in Buffalo. It is a great fit for them and since I had worked with this builder before, I knew he built affordable homes at a high quality.
Brian and Jacinda, congratulations not only on the home purchase, but also on your upcoming wedding! We look forward to being a continued resource for you in real estate over the years.
Team Lead Agent, Cristina Edelstein-Skurat