I think it's safe to say that Monday is the least celebrated day of the week for most. Bryant Lake bowl, located in Minneapolis, is trying to change that… and doing a mighty fine job, I will add.
Technically, the place is open seven days a week from 8am to 2am, serving breakfast, lunch, and dinner. Not only do they have bowling and a restaurant, they also have a cabaret theater (if that's up your alley…pun intended). Monday nights, however, are specifically set aside for what they have coined "Cheap Date Night™". So, what's all the hype about? Well, for just $28 total, a couple receives two entrées, a bottle of wine or a few beers, AND one round of bowling. It really is a steal!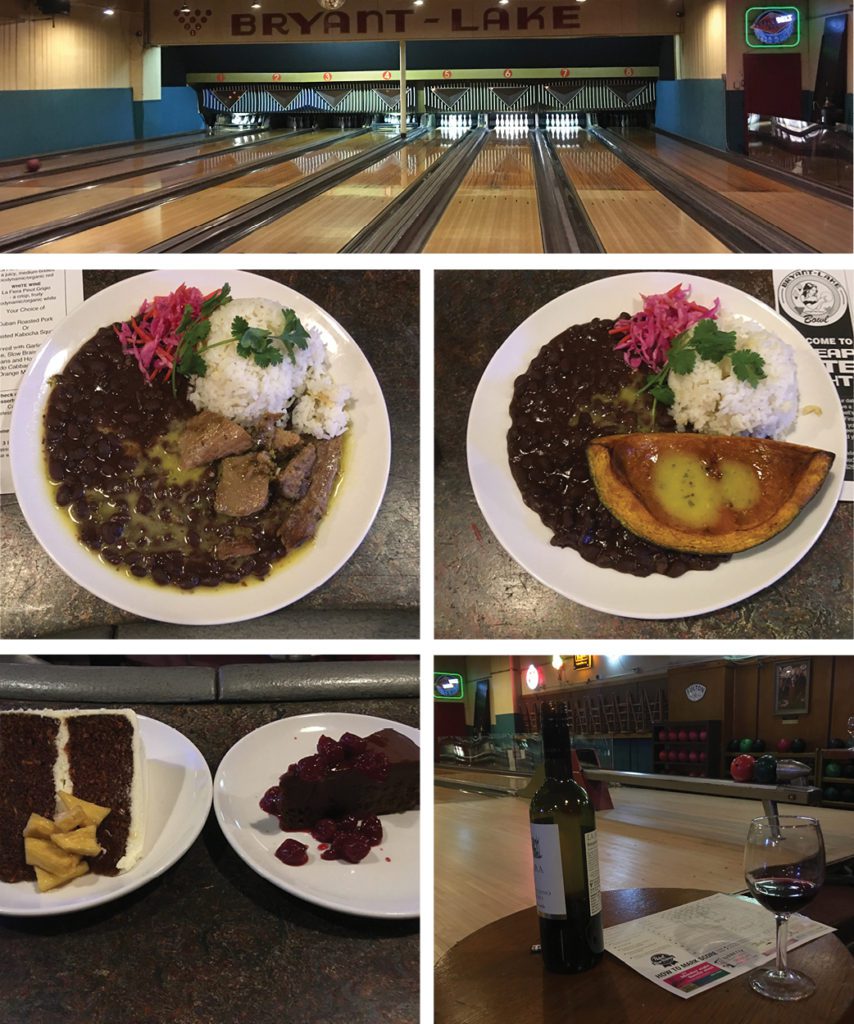 The grunge, relaxed atmosphere mixed with amazing food, has us hooked. Keep in mind the menu changes all the time, but for us, the pork was excellent – like eating at a traditional Cuban joint! The squash was prepared exceptionally well, with seasonings that made it taste just like the pork. The carrot cake was rich, although we weren't big fans of the frosting, which tasted a bit more like shortening than cream cheese or vanilla buttercream. The chocolate torte was vegan, incredibly flavorful and truly delectable. The wine was solid, according to my brother-in-law, since we don't drink. Our server was extremely upbeat, friendly, and helpful since we had our infant with us that night.
It's your call as to whether you eat before, during, or after you bowl. We went in hungry, so we ate our entrées first and dessert after. Many of the other couples were enjoying their meals right at their bowling station.
The bowling was a blast, and included, of course, sweaty shoes like you would expect at a bowling dive bar. I personally bowled my best game ever at a score of 150, but my brother-in-law edged me out at a 151. We were having such a good time, we decided to bowl a second round (bowling is unlimited on Cheap Date Night™)! That round, I fell off the wagon and didn't even hit 100, but still beat Cristina who loves bowling, but isn't as gifted in it as she is in selling real estate. It's all about the fun and we had a great time!
Side (very important) note: Bryant Lake Bowl gives back to the community. They donate to both non-profit and community organizations (there is a pretty extensive list on their website). On top of great food, service, and entertainment… you're helping give back… now, that's a winning combination! So, get your bowling on!