Rob and Erin are an absolutely phenomenal couple. They were referrals from past clients of ours, all of us who lived in the Crystal/Robbinsdale area prior to moving out west. Rob and Erin loved where they lived and had no need to move, however, they were thinking in the long-run they would like to be in a bigger home and maybe even in a different school district.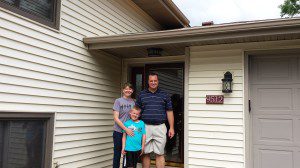 As we set off on their home search, we took it slowly and without any hurry. We ended up finding a beautiful home in Maple Grove that fit their needs and was just right for them. It was a relocation property and we were able to get it negotiated and get all the details sorted out so they could close towards the end of August.
In addition to helping them buy, we also put their current home on the market shortly after. Their Robbinsdale home has an accepted offer and is closing in November. It was very nice for them to not have to sell their home before finding their new one.
Congratulations on your new home Rob and Erin! We hope you and your family have a wonderful time as you get settled in.
Team Lead Agent, Cristina Edelstein-Skurat