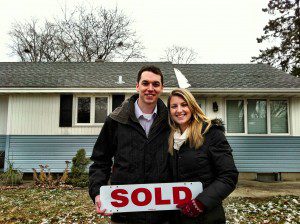 Jason and Laura are a wonderful couple. They just got married this last summer and within weeks decided to explore the possibility of homeownership.
They asked me about a house that had been flipped, and we met there and discussed their wants and needs in a home. They took the next steps to get prequalified and within days, we were off on their home search! In early October we found their first home. A cute, blue one-story home that was priced right and had lots of potential for minor updates over time.
On this one, we had the privilege of working with great sellers. Even though the home got more than one offer when we presented ours, the sellers agreed to work with us because this had been the family home they grew up in. Now it was an estate, and they were very happy to have a nice, young couple start off their family together there. The inspection went well, as the owners had meticulously maintained the home over the years, and we negotiated on a few items and moved forward with the closing.
Jason and Laura, congratulations on your first home! I hope you love it and have fun updating the kitchen and adding your personal touches over the years. Don't forget – we're here to help you each step of the way. 🙂 Thanks again for choosing us as your realtors and we hope you enjoy your first holidays in your new home!