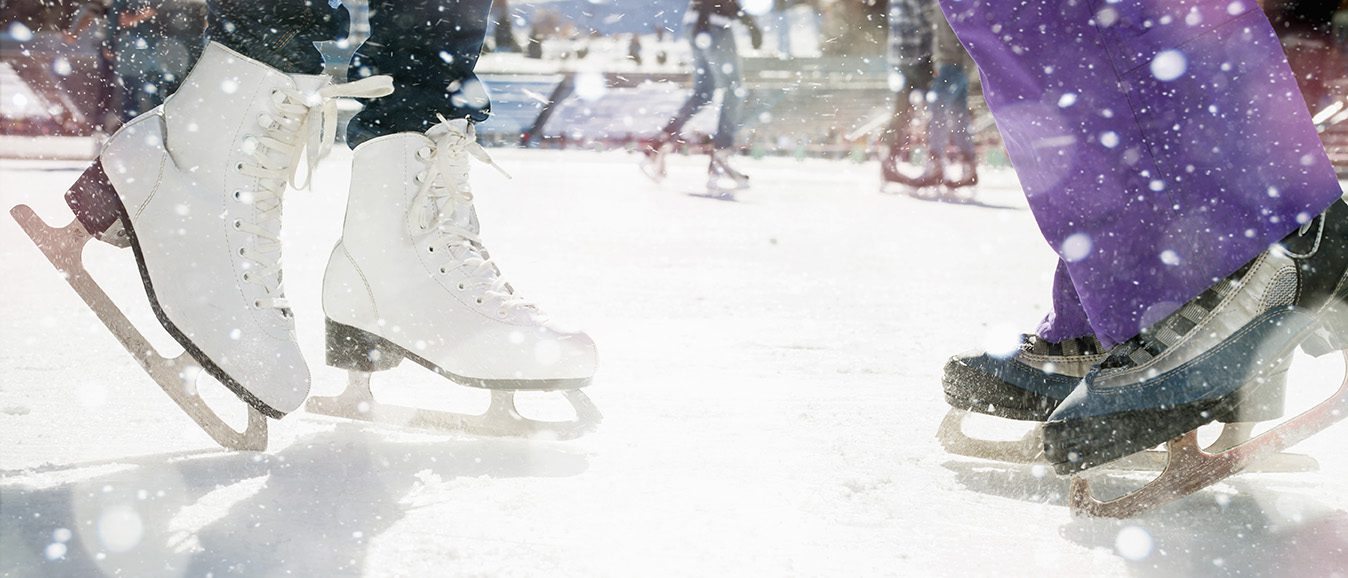 One of the best parts about living in Minnesota, especially the greater Metropolitan area of the Twin Cities, is the abundance of neighborhood ice rinks to enjoy in the winter months. If you're a family of hockey players or figure skaters, or you'd just like to try skating and see what it's all about, there's a rink for you. Whether you live in Plymouth, Maple Grove, or another suburb of the Twin Cities, chances are you can find a rink near you. Many spots offer free open ice skating times so that you can enjoy skating without disrupting any team practices or organized events. With outdoor and indoor rink options available, you can enjoy skating even on the days it's too cold to be outside. Here are a few of our favorite family-friendly rinks:
Guidant John Rose Oval

Centennial Lakes Park

Plymouth Ice Center

Central Park Ice Skating Loop

The ROC
Family-Friendly Open Skating Rinks
In a place like Minnesota, lovingly called the state of hockey, ice rinks are in abundance. Finding a spot that's family-friendly with open skate hours isn't too hard. Think about what kind of atmosphere your family would enjoy, whether you'd like to skate laps or would like to be on a hockey rink for extra practice. Before you go, check the facilities' rules for their open skate times, as some may not allow sticks during open skating. 
Guidant John Rose Oval in Roseville 
The Guidant John Rose Oval, more commonly known as simply "the Oval," is the largest artificial outdoor skating rink in North America. This fact alone should get your family excited for all the large loops you can make on the ice. The 110,000 square foot slab of concrete is used for ice skating in the winter and inline skating in the other seasons (so be sure to plan a visit in the warmer months too). Since the ice rink is refrigerated in the winter, you can enjoy skating even when the temperatures reach the 50's. If you're new to skating, the Oval offers skate rentals and even has skating lessons for all ages. Check out this Roseville ice rink next time you're looking for open skating with the family. Or, add it to your list of summer activities and cool off at a local brewery afterward. 
Centennial Lakes Park in Edina
Centennial Lakes Park is another excellent open skating option in the greater Twin Cities area. The 10-acre lake in Edina is groomed daily during the winter months, making it the perfect spot to strap on some skates and get out on the ice. Centennial Lakes Park is a fun place to skate because it is spread out across three main ponds, connected by meandering canals, making for a unique skating experience. They typically offer skates and Norwegian Ice Sled rentals, which might be fun for the family to try. If you need a minute to warm up, there is a cozy rink-side warming house where you can rest or put your skates on. Centennial Lakes Park is open every day during the winter, weather permitting, at no charge. Just check their website for hours.
Plymouth Ice Center in Plymouth
The Plymouth Ice Center is the perfect place to skate when the temperature is a little too cold for outdoor skating. It is an ice center connected with the Life Time Fitness on 36th Avenue and Plymouth Boulevard, boasting three professional-sized ice sheets. The arena is used for recreational activities and is home to both open skating and open hockey, making it perfect for those who like to be competitive on the ice. You can bring your own skates or rent a pair at the arena for five dollars. The fee to participate in open skating is also five dollars, unless you're a Life Time Fitness member. If you're interested in adult open hockey, check out their schedule online. Once you and the family have worked up an appetite from skating, try one of these vegan-friendly restaurants in Plymouth.
Central Park Ice Skating Loop in Maple Grove
The Central Park Ice Skating Loop is a magical place to take your family for open ice skating. True to its name, the park consists of a large loop that skaters can glide across. The ice loop is 810 feet long and 20 feet wide, designed for pleasure skating. They have a warming house to use for getting your skates on and typically have a concession stand as well. The skating loop is open daily, and though no hockey sticks or pucks are allowed, your family will have a great time skating on this expansive stretch of refrigerated ice. If you need skates, Central Park offers skate rentals too.
The ROC in St. Louis Park
The ROC, or Recreation Outdoor Center, located in St. Louis Park is an outdoor recreational facility located at the Rec Center. This covered ice rink is used for hockey, open skating, broomball, and other events on ice in the winter months. One great perk to this open ice skating rink is that you can rent it for birthday parties, special celebrations, and company or school events. With the rental, you will get the whole rink to yourself and up to 15 skate rentals. So if you're looking for a place to skate with the family, or a whole party, then the ROC is the right spot for you. Treat yourself to one of these must-try burger joints in St. Louis Park once you've spent a few hours on the ice. 

Enjoying Winter in the Twin Cities
Whether you're a professional skater or just learning, heading to an open ice skating rink is one of Minnesota's most treasured winter activities. Find a spot that the whole family will enjoy and improve your skating skills. No matter where you reside, you won't have to drive far to find an excellent skating rink near you.