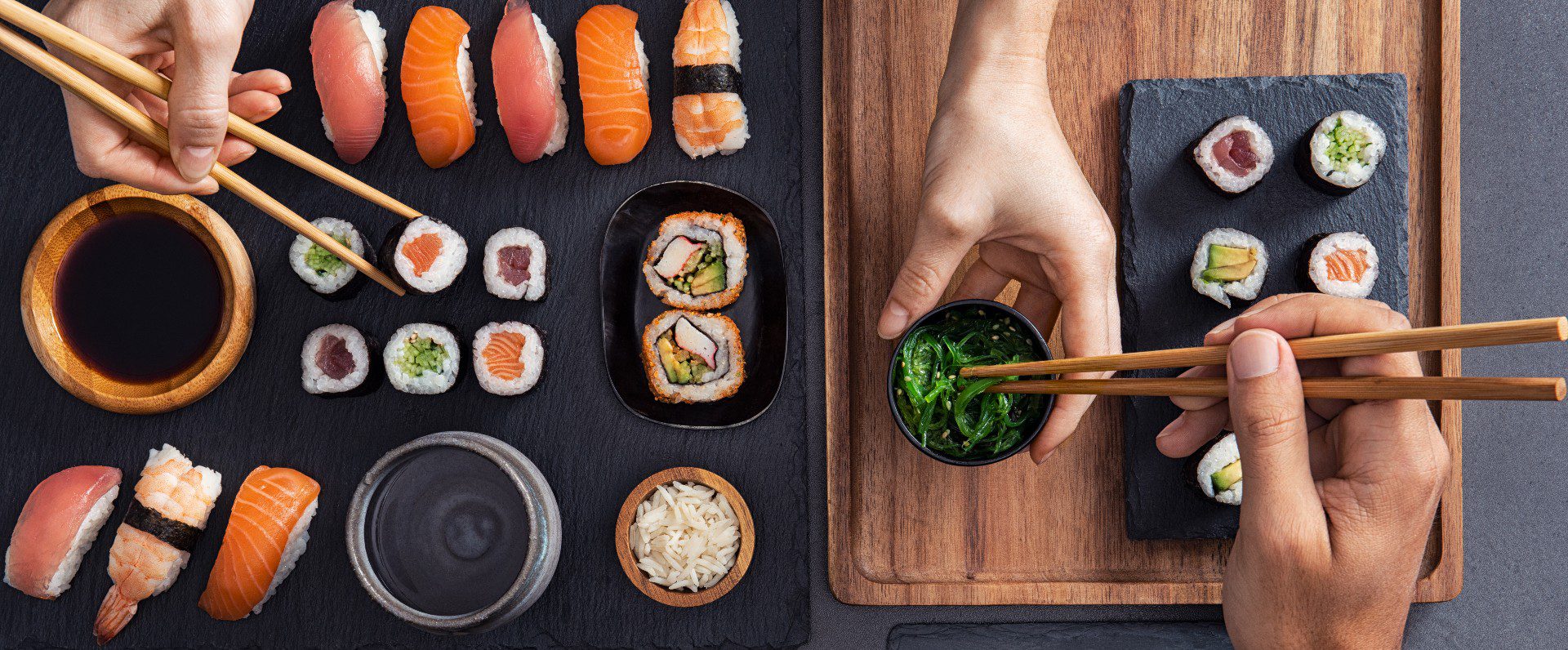 Sushi is the perfect food for a picnic by one of Minnesota's metropolitan lakes or even fun for a date night meal. Thankfully, there are a number of delicious sushi restaurants in Minneapolis that are worth visiting. Whether you're looking for a city escape or a sushi spot in the heart of it all, there's a Twin Cities sushi restaurant for you.
While Minnesota is entirely landlocked, there are quite a few places doing sushi right in the cities. Fresh, quality ingredients are the key to a good sushi experience. Add in the restaurant's ambiance, fun cocktails, and good company, and you'll have the recipe for a perfect night.
Five of the most mouth-watering sushi spots in Minneapolis include:
Kyoto Sushi
Kado No Mise
Wakame Sushi & Asian Bistro
Sushi Train
Origami Restaurant
Top Sushi Spots in Minneapolis
Kyoto Sushi
With locations across the metro area, Kyoto sushi is one of the best Twin Cities sushi restaurants. Their menu features both sushi and hibachi options, so everyone in your group will be satisfied with the selection. They also have all-you-can-eat lunch and dinner buffets, which are a popular option thanks to their low price point.
If you are thinking about purchasing a home in Maple Grove or are a current resident — you're in luck! Kyoto has a restaurant conveniently located on Grove Drive. Their additional locations include Roseville, Uptown, Eden Prairie, and a few other spots. Twin Cities residents across the metro area can enjoy the delicious rainbow rolls and salmon teriyaki rice at Kyoto Sushi.
Kado No Mise
Kado No Mise is the real deal when it comes to an unforgettable sushi experience in Minneapolis. Chef Furukawa first started cooking professionally in his hometown of Tokyo. He knows his way around Japanese fare and sushi, making Kado No Mise the destination for sushi in the beautiful historic Minneapolis North Loop neighborhood. Kado No Mise lives up to its name, which translates to "corner restaurant."
What makes Kado No Mise unique, besides its cuisine and excellent chef, is its experiences. You can dine at their second-floor chef's counter – omakase – for an interactive dining experience like no other. Omakase means "I'll leave it up to you," which is fitting because rather than choosing items off the menu, you'll have a selection carefully curated by the chef himself.
When you have the time and want a genuine, authentic experience, Kado No Mise is definitely the place to go. It has earned its spot as one of the best Minneapolis sushi restaurants, thanks to its attention to detail and delicious Edomae sushi.
Wakame Sushi & Asian Bistro
Pretty much any Twin Cities local will tell you that Wakame Sushi & Asian Bistro is one of the best sushi spots in Minneapolis, hands down. It's located right in Uptown near Lake Bde Maka Ska, making it a popular destination for happy hour, both afternoon and late night. If you want to make it a traditional sushi experience, try some sake with your meal.
The menu at Wakame Sushi & Asian Bistro is extensive, meaning everyone in your party will be able to find something they like. With every kind of sushi imaginable and several noodles and fried rice options, no one will leave hungry. If you want to order something out-of-the-box, try one of Wakame's signature rolls. The Crazy Monkey Roll is perfect for anyone wondering what deep-fried sushi tastes like, and the Cowboy Roll is made for those craving steak in their sushi.
Wakame is a hit no matter what you order. Enjoy the atmosphere and drinks, or make it to-go and enjoy your sushi by one of Minneapolis's lakes. Located so close to Bde Maka Ska and Lake of the Isles, it's the perfect stop before your picnic.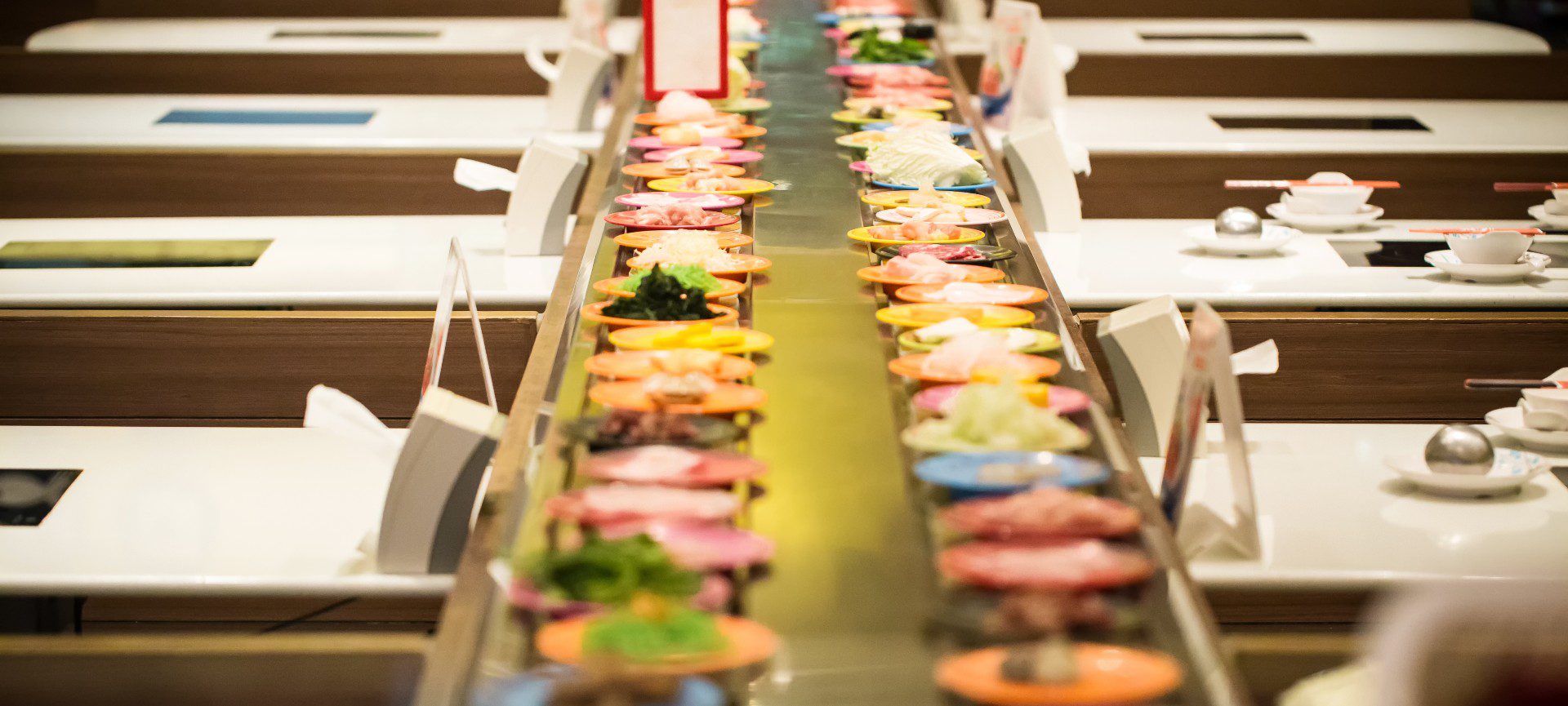 Sushi Train
If you've always wanted to try one of those sushi restaurants where the food circles on a conveyor belt, then you're in luck. The Sushi Train on Nicollet Avenue is just the spot. It's perfect for lunch meetings or a night out with friends downtown. The restaurant even has a Travelers' Choice award from Trip Advisor, which travelers in Minneapolis will appreciate.
This sushi restaurant prides itself on top-quality rice and fish and authentic hospitality, with the fun of the conveyor belt thrown in. Diners will enjoy the vibrant and entertaining space with pop culture elements borrowed from modern-day Tokyo. There's no need to worry about choosing the freshest items on the belt, either. Each package has an RFID chip that tells chefs when it's time to be replaced. You and your friends will enjoy how fun it is to watch the sushi go by and try to pick the best ones off the belt!
Origami Restaurant
Origami Restaurant used to be located in downtown Minneapolis but moved to Uptown a few years ago. It is still serving the top-notch sushi that it became famous for in the Twin Cities, with a lively interior full of beams resembling chopsticks and Japanese motifs painted by local artist Yuya Negishi. Anyone looking for the best sushi spot in Minneapolis should check out Origami.
This sushi restaurant has rotating specials, which are always fun to try. Their food menu is truly limitless – it could even be considered a vegan-friendly restaurant as it has its own vegan menu. The sushi options are ample, too. Origami also has an extensive sake and Japanese whiskey selection if you'd like a drink to pair with your meal. Next time you're looking for sushi in Uptown, this is the place to be.
Enjoying the Best Twin Cities Sushi
Whether you reside within the Twin Cities or call one of the surrounding suburbs home, there's an incredible sushi place nearby just waiting to be discovered. Eating in or taking out, there are options for excellent sushi experiences across the metro area. Just because Minnesotans have lakes to swim in instead of the ocean doesn't mean it's hard to find quality sushi.