St. Louis Park, a first-ring suburb just west of Minneapolis, has a trove of great bars and restaurants to try. It's a popular area for first-time homeowners because of its close proximity to the city. In just a few minutes, you can reach the chain of lakes that Minneapolis is so well-known for, too. After a day spent outdoors, check out one of these must-try burger joints in St. Louis Park. With options for everyone in your family, including vegetarians, these restaurants won't disappoint. Don't forget to try a local craft beer, too, as many of these places boast extensive beer menus. Here's the list:
Red Cow
Yard House
McCoy's Public House
Bunny's Bar and Grill
yum! Kitchen and Bakery
Red Cow
Red Cow has several locations throughout the Twin Cities, and it's a popular burger spot for good reason. Their location at 50th and France could quickly become your go-to burger joint if you live in St. Louis Park. Red Cow has an extensive menu, with shareables, salads, sandwiches, soups, bowls, and of course, burgers. With ten different burger choices, including turkey, spicy tuna, and vegan beyond burgers, everyone in your group will be able to find a burger they'll enjoy. Try subbing your fries for their sweet potato crinkle planks for something different (and to-die-for). They also offer gluten-free buns if anyone in your group has an allergy.
Red Cow boasts a spacious interior and a patio so that you can enjoy those warm summer nights outdoors. They have a great beer and wine list with some local favorites and an innovative cocktail menu. Or you can choose to go the old school route and order a milkshake with your burger. If you can't wait until dinner, check out their weekend brunch menu. It's quite a hit.
Yard House
Located near the Shops at West End, a popular shopping destination in St. Louis Park, Yard House offers innovative American fare with a global twist. Aside from the food, Yard House also has a large selection of draft beer, featuring over 100 beers from local and imported breweries. If that's not impressive, wait until you see their burger menu. Yard House burgers range from classic to surprising, with flavors you will have to try for yourself (looking at you, blueberry ketchup). If you're interested in something other than a traditional burger, go for the pork burger or the vegan beyond burger. All items can be made gluten-free, too.
Yard House is definitely a burger joint, but they have an extensive menu if you're looking for some variety. Everything from tacos to pizza to steak. They have an extensive vegetarian menu, which is always nice for anyone vegetarian or vegan in your group. Next time you're in St. Louis Park, consider stopping at Yard House for lunch or dinner. Come hungry and thirsty. After all, they have over 100 beers on their drink menu!
McCoy's Public House
McCoy's Public House is a family-owned restaurant and bar located at Excelsior and Grand in St. Louis Park. It's on the list of must-try burger joints for St. Louis Park residents because you'll like the burgers just as much as you'll enjoy the pub atmosphere. Saddle up to the bar or grab a booth and choose the burger that looks best to you! They offer a few traditional burgers with many customizable options and a wide variety of unique cheeses. Or try their Thai-glazed turkey burger for a change. They even have a veggie burger made from black beans. Whatever burger you choose, you'll love their brioche buns and beer battered fries.
To wash it all down, McCoy's offers craft cocktails, microbrews, and wine. Their list of draft beers and ciders is long, with a lot of local options. If you're going to McCoy's for brunch, you'll have to try one of their brunch cocktails, which includes a pretty epic Bloody Mary. Check out their happy hour, too, for some great deals at this St. Louis Park burger joint.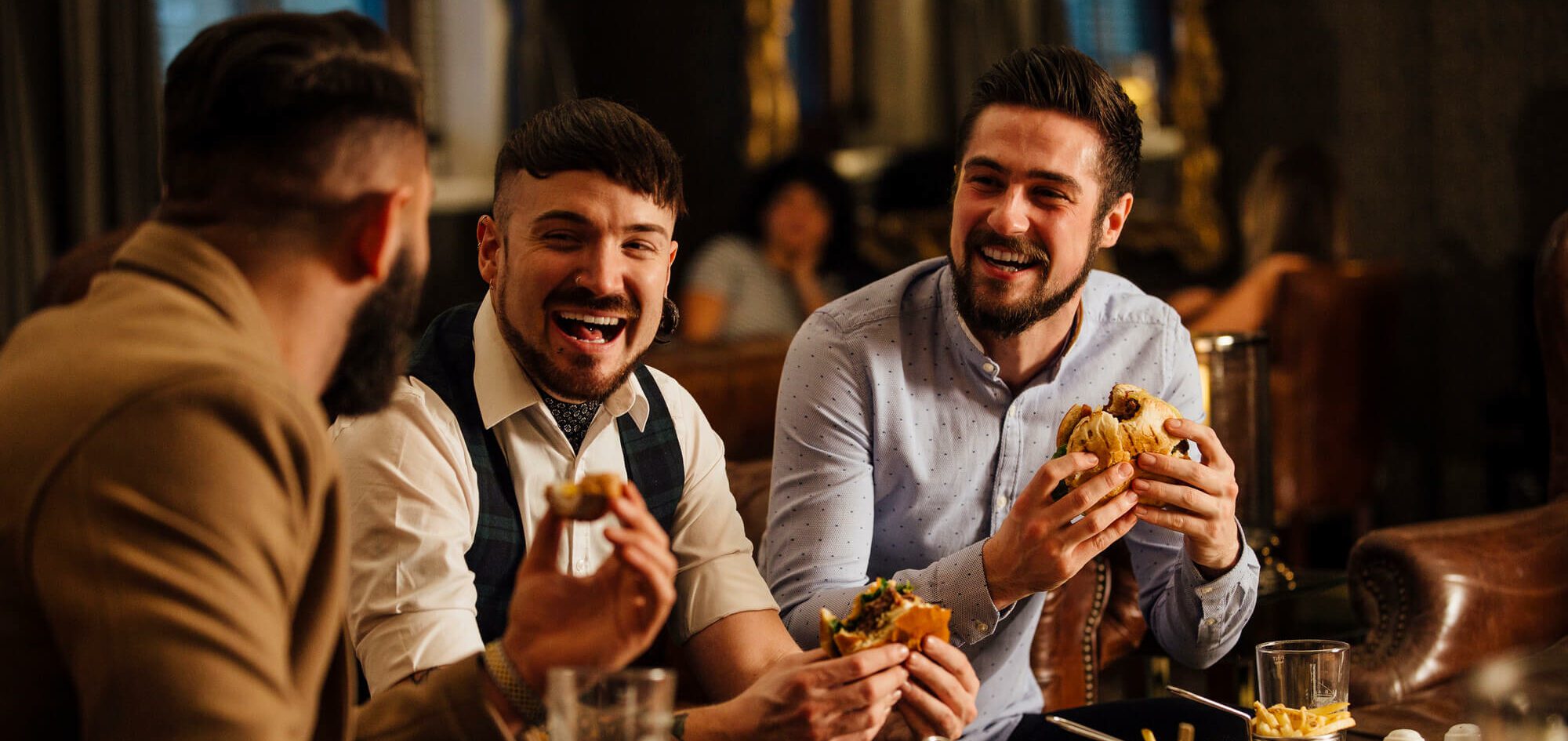 Bunny's Bar and Grill
Since 1933, Bunny's Bar and Grill has been the place to go if you want to watch a game and grab a bite to eat in St. Louis Park. They have consistently been voted the best sports bar in Minnesota, thanks to their loyal customer base. Even visitors will feel like family at this establishment. They've got everything from pizzas and salads to burgers and sandwiches. Try the famous Bunny burger if you're looking for a classic burger with a lot of flavor. Like most of the other St. Louis Park burger joints on this list, they've got a turkey burger and a vegan burger as well.
Breakfast is available every morning at Bunny's Bar and Grill, but you might find a line out the door at this St. Louis Park burger joint on Sundays. That's because Bunny's gives out a complimentary Bloody Mary or Screwdriver with every breakfast on Sundays. Kids will love their Root Beer and grape sodas. For the adults, their long list of craft beers will make it hard to choose what to drink.
yum! Kitchen and Bakery
For the health-conscious and those who want a faster burger option, try yum! Kitchen and Bakery in St. Louis Park. This place is very well-known among St. Louis Park locals and visitors alike. Not only do they offer a vast assortment of bakery items, but they have a full menu for breakfast, lunch, and dinner. Yum is open daily from 8 am-8 pm and would make a great choice if your group is looking for a wide variety of options.
The Yum burger consists of two ground chuck patties with cheddar cheese, lettuce, tomato, onion, and a special sauce on a challah bun. Take your food to-go and enjoy it at one of the beautiful parks or lakes nearby, or eat inside their charming restaurant. Just don't forget to order something for dessert too, from their tempting bakery case.
Tasty Burgers in St. Louis Park
Whether you're searching for homes in St. Louis Park or just visiting, there are plenty of great burger joints to visit. From local chains to family-owned restaurants, St. Louis Park has plenty of options for eating (and drinking) out. Try any of these five burger joints and enjoy the friendly atmosphere and delicious food.